Eddie Vedder worried about his own psyche after Chris Cornell tragedy
Publish Date

Wednesday, 4 November 2020, 9:12AM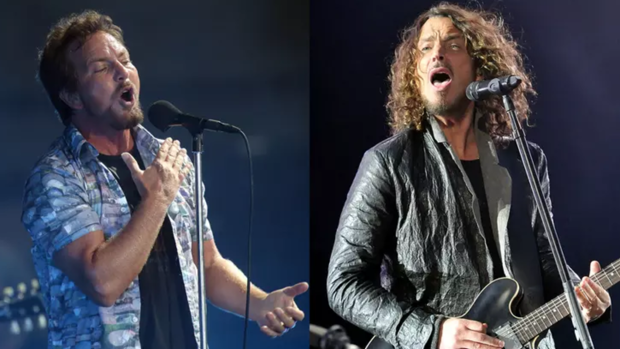 More than three years later, Pearl Jam frontman Eddie Vedder has yet to fully grieve the death of his longtime friend and fellow grunge icon Chris Cornell.
Vedder said in a recent conversation with Howard Stern that his half-brother, who was also named Chris, died in a climbing accident in Africa about a year before Cornell's tragic passing. Both wounds are still fresh. Eddie tries not to dwell on it.
"I've had to be somewhat in denial," he told Stern. "I don't even feel like I had a choice. I was just terrified where I would go if I allowed myself to feel what I needed to feel or what I was instinctively wanting to feel or how dark I felt like I was gonna go."
The years had put distance between the late-Soundgarden frontman and his Seattle compadres. If Cornell wasn't working with Soundgarden, he was either at home in Florida with his family or on tour as a solo artist.
Eddie continued: "And because I didn't see him that often in the last 10 years — probably only, like, four or five times, and usually at a gig or something — I still haven't quite dealt with it. I'll get stronger as time goes."
The physical distance between them was not indicative of a spiritual or ideological rift. Pearl Jam and Soundgarden were as close as two bands could be coming out of the same city. They developed together in the late-'80s and applauded one another's successes along the way, even sharing drummer Matt Cameron since 1998.
In 1991, Cornell joined forces with Eddie's Pearl Jam bandmates for a platinum-selling album with Temple of the Dog and duetted with Eddie on the band's hit, "Hunger Strike."
"We were close," Eddie added of his formative years with Cornell. "And it wasn't just because we were playing music. We were neighbors. I would hang out with him outside of the band more than even the other band guys, and I didn't know that many people in Seattle. So we would go on crazy hiking adventures, or we would go mountain biking, or we would chase the dog in the rain while drinking sh---y beer — and it was cool."
Eddie dropped by the Howard Stern Show in a pre-election effort to get voters to the polls for the Tuesday, November 3, general election. In addition to reminiscing on his life and career, Vedder performed several songs live on the air.
This article was first published on iheart.com and is republished here with permission