Eddie Vedder notes profound connection between Pearl Jam & 2016 Chicago Cubs
Publish Date

Wednesday, 3 March 2021, 1:34PM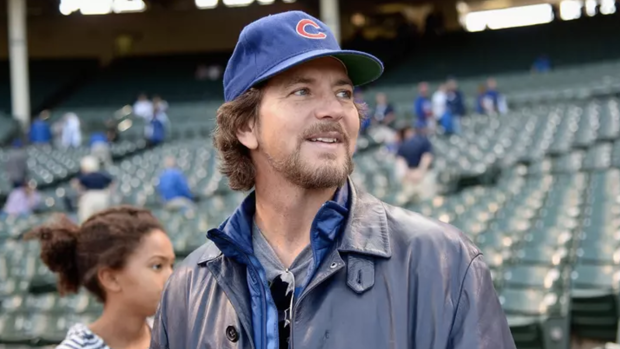 Pearl Jam frontman Eddie Vedder and Chicago Cubs first baseman Anthony Rizzo explored the many parallels between sports and music on the latest episode of Lindsay Czarniak's The Artist and The Athlete podcast.
Towards the end of their conversation, Czarniak asked Vedder — a lifelong Cubs fan — if his pre-show routine is anywhere as superstitious as that of a typical baseball player.
While Vedder acknowledged that there is "a little bit of OCD" at play backstage before a Pearl Jam concert, no routine is quite like that of the band's longtime tour manager, Mark Smith. The singer noted that Smith's offbeat tradition took on a more profound meaning to him, following a crucial moment in the Cubs' Game 7 victory in the 2016 World Series.
"Our tour manager for the last 25 out of the 30 years, when it's time to play or go onstage, he won't say, like, 'Okay, half hour...' Or '10 minutes...' It's always, '17 minutes, guys,'" Vedder explained. "It was just this random, '17 minutes.' This started in like '95."
Vedder then posed a question to Rizzo: "...How long was the rain delay ... in Cleveland [during Game 7 of the 2016 World Series]?"
"Wow, yeah, it was 17 minutes!" Rizzo answered.
"Yeah, that's kinda cool," Vedder added. "Random, but cool."
Game 7 was an instant classic, with both teams representing long-suffering fan bases as the game stretched into extra innings tied 6 - 6. It was the first Game 7 in MLB history to have a rain delay, which occurred at the most dramatic possible time — just as the players were about to take the field for the 10th inning.
The Cubs had gone scoreless in the prior three innings. But after waiting out the 17-minutes of rain before the 10th inning, the team drove in 2 more runs and went on to clinch the series in the bottom of the 10th, with Rizzo catching the final out.
Speaking to the press after the game, Rizzo credited the rain delay with tipping the series back in Chicago's favor, delivering the Cubs their first World Series victory in 108 years.
Listen to the full conversation between Vedder, Rizzo and Czarniak via the player above, here on iHeartRadio or wherever you listen to podcasts!
This article was first published on iheart.com and is republished here with permission
Take your Radio, Podcasts and Music with you