Eddie Van Halen's last words revealed in new book
Publish Date

Thursday, 6 January 2022, 7:03AM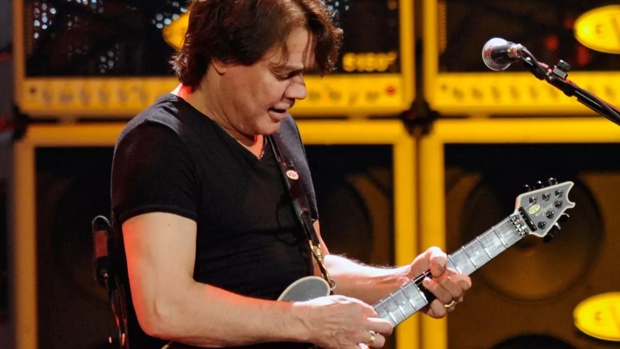 Valerie Bertinelli opens up about the grieving process that came with her ex-husband Eddie Van Halen's death in the fall of 2020 in her new book, Enough Already: Learning to Love the Way I Am Today.
The book arrives January 18. In it, among other stories from her life, Bertinelli recalls Eddie's long battle with cancer and the final days of his life.
Bertinelli, Eddie's wife of more than 20 years, was at the hospital with the rest of their family — including their son Wolfgang Van Halen, Eddie's widow Janie Liszewski and Eddie's brother Alex Van Halen — when he passed away.
In an excerpt from the book published by People magazine, Bertinelli recalled her final conversation with Eddie, in which the two looked back on their marriage.
"Maybe next time, right?" she recalled saying to him. "Maybe next time we'll get it right."
Wolfgang called his mother early the morning of Eddie's death (October 6, 2020) and urged her to get to the hospital as soon as possible. Eddie's breathing had changed and doctors said he didn't have much time left.
She described Eddie's passing as coming in "slow motion."
"'I love you' are the last words Ed says to Wolfie and me, and they are the last words we say to him before he stops breathing," Bertinelli writes.
After that, the family sat in silence for about 20 minutes before someone spoke up. Bertinelli says they began sharing stories about Eddie's life. The conversation inevitably turned to the joy with which Eddie lived and the happy memories he had with his family.
"Suddenly, all of us are cracking up," she wrote. "We laugh — and it is so much better than crying."
Early last year, the actress and author noted that the pair spent 40 years with each other, including 20 as a couple and 20 as close friends and co-parents.
She said she was so accustomed to communicating with Eddie that she caught herself going to to call or text him in the months since his passing.
Wolfgang, too, has been open about his grieving process over the past 15 months. His debut single with his solo project Mammoth WVH, "Distance," is a hard-breaking tribute to his late-father.
The song was recently nominated in the 'Best Rock Song' category at the Grammys.
Take your Radio, Podcasts and Music with you