Def Leppard's Joe Elliott Theory About Taylor Hawkins' Passing
Publish Date

Thursday, 16 March 2023, 11:09AM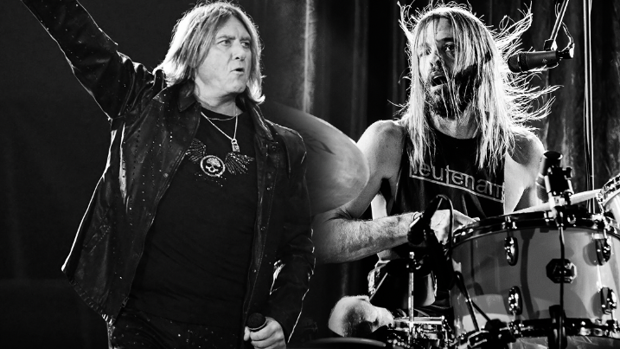 Def Leppard has been currently on the road for their 'The World Tour', along with Mötley Crüe as the co-headliner. 
As you know, the Foo Fighters drummer passed away on March 25, 2022, after being found unresponsive in his hotel room in Bogotá, Colombia, where the band had been touring. Although a preliminary toxicology report revealed the presence of ten different substances, including opioids and benzodiazepines, in his body, no official cause of death has been given.
It seems like the Def Leppard singer has a theory about Hawkins' passing, as he revealed in the backstage video of their shows. Elliott initially revealed that the altitude in Latin America affected him badly. He was able to pull himself through after seeing a doctor in the hospital.
The rocker then revealed that they stayed in the Four Seasons in Colombia, where Taylor Hawkins had also died. So, he started to wonder whether this different altitude had an impact on his passing. The singer said that he was accustomed to living at sea level, so getting used to staying above sea level was not easy for him.
Elliott's theory about Hawkins' passing is as follows:
"The altitude was a bit of an issue. Incidentally, we were staying in the Four Seasons, which is the same hotel Taylor Hawkins passed away in, and I wonder whether altitude had something to do with his death because it's a bastard; it really is. I was born at sea level, I live at sea level, and to do a gig eight and a half thousand feet above sea level [is] not easy."
Thus, according to the Def Leppard vocalist, the high altitude in Latin America may have a negative impact on health, as he also experienced. He thinks the drummer's death may have something to do with it. We will never know about it until an official announcement is given.
This article was first published on rockcelebrities.net
Take your Radio, Podcasts and Music with you