Def Leppard auction gives personal look at Rick Allen's arm loss & recovery
Publish Date

Thursday, 22 April 2021, 7:32AM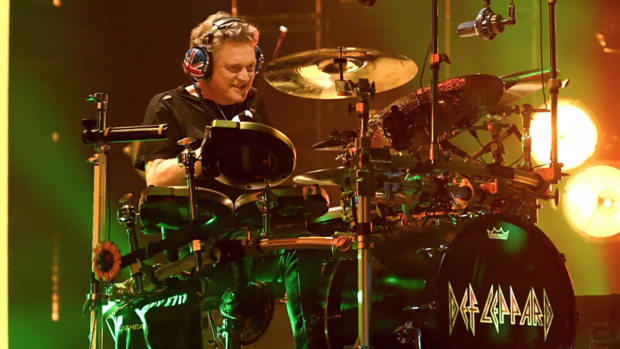 The ex-girlfriend of Def Leppard drummer Rick Allen is selling a "very personal" collection of memorabilia at auction, including early mixes of material for the band's albums On Through the Night and Hysteria albums.
Miriam Barendsen was Allen's girlfriend from 1984 to 1991. She was his passenger in the New Year's Eve 1984 car accident that resulted in the amputation of his left arm.
The auction, via Gotta Have Rock & Roll, runs until April 23. It includes a trove of Allen and Def Leppard memorabilia, some of which offers unprecedented looks inside Allen's recovery and eventual return to the stage.
The lot includes signed photos, personal notes, backstage passes, drum setup notes, stage-worn clothes and recordings of Allen working with drummer Jeff Rich, devising ways to adapt his style and setup to having only one arm.
Barendsen fondly recalled her relationship with Allen in an interview with Ultimate Classic Rock.
"We had so much fun together, even after the accident," she said, noting that laughter and positivity were important parts of Allen's recovery.
She added that going through the collection gave her a sense of pride for Allen and what he was able to overcome.
"He did not want to give up at any point once he understand he could play drums again," she said. "Of course, he had to deal with difficulties in normal life. I remember very clearly that he felt embarrassed when we went out or when we interacted with other people. He thought everybody was looking at him having one arm. I had to tell him not to care. I made it as being normal as much as possible. We would make jokes about the fact that when you lay together in bed, it's kind of hand having one arm — it fits even better!"
Allen's life improved dramatically once he began playing drums again. He made a point to encourage other disabled people to follow their dreams.
One handwritten note from Allen includes the line, "I hope that my playing music helps you believe that everything is possible. Take it from me — I know!"
Barendsen says it never occurred to her to sell her collection until a private collector made her an offer. Realizing the value of the items, she decided to put them up for auction.
She plans to use the proceeds for her Baladi Foundation, a nonprofit that works to help homeless cats and dogs in Egypt.
This article was first published on iheart.com and is republished here with permission
Take your Radio, Podcasts and Music with you