David Lee Roth tries, fails to take credit for Van Halen's iconic guitar
Publish Date

Thursday, 9 December 2021, 9:01AM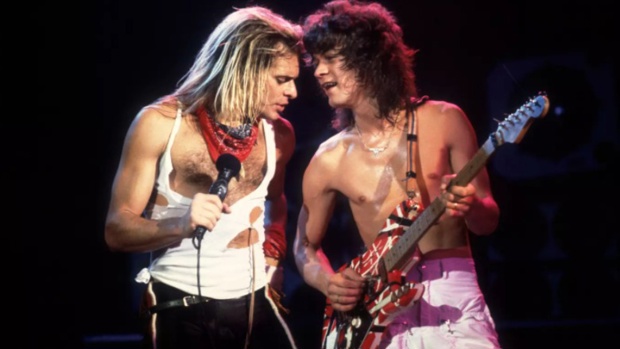 David Lee Roth claimed over the weekend to have been responsible for the iconic aesthetic of Eddie Van Halen's black, white and red-striped Frankenstrat guitar.
Roth posted a seven-minute audio message on social media Saturday, December 4, in which he recalled the supposed origin story of Eddie's legendary guitar. The story was in response to comments comparing one of Roth's paintings to the work on the guitar.
The singer responded by claiming that both motifs were, in fact, "my work."
But Roth's claim drew swift criticism from Van Halen biographer Chris Gill, who slammed the story, pointing out to Guitar World that "Three key factual errors in Roth's statement prove that his story is a complete revisionist fabrication."
Among those errors, Roth claims:
He helped paint the guitar in 1975 or '76
The original body was painted white
The paint was applied by spraying red and black paint onto the white body
He used three different types of tape, grey duct tape, black electricians tape and blue masking tape
Gill rebuts that dated photographs prove that Eddie did not build the Frankenstrat until February of 1977. The original guitar's body was unfinished when Eddie acquired it; he then painted it black.
While Eddie briefly owned a white 1961 Fender Stratocaster, he disassembled it to affix its neck, serial number plate and vibrato tailpiece/bridge on the eventual Frankenstrat.
Regarding how the guitar was painted, Gill asserts that Roth "gets this essential detail completely wrong," telling Guitar World that the stripes were created by applying masking tape and spraying white paint on the black-finished body.
The red stripes weren't added until March of 1979, Gill added. Eddie used gaffer tape to apply the red coat of paint — a piece of that tape "still remains on the guitar."
Furthermore, the blue tape Roth says they used...was not invented until 1988.
Roth concedes at one point in the clip that he hasn't "done research" on the guitar and that his tale "isn't a science lesson... just my memory."
This wouldn't be the first time in recent years that Roth has tried to take credit for Eddie Van Halen's work.
In a 2019 radio interview, Diamond Dave claimed of Van Halen's music, "I wrote every word you heard, every syllable, every melody. I structured out even the guitar solos on the first album. Why do you think the solos changed so radically? I sang the solos for 'Jamie's Cryin'' and 'Runnin' With the Devil.'"
He added at the time, "I designed the backgrounds on the stage. I came up with the album covers. I thought of the stripes on the guitar. I'm the one who said, 'Call it Van Halen.'"
You can read more about the story of Eddie Van Halen's Frankenstrat here.
Take your Radio, Podcasts and Music with you