David Coverdale is trying his best to coax new music out of Jimmy Page
Publish Date

Monday, 1 March 2021, 10:59AM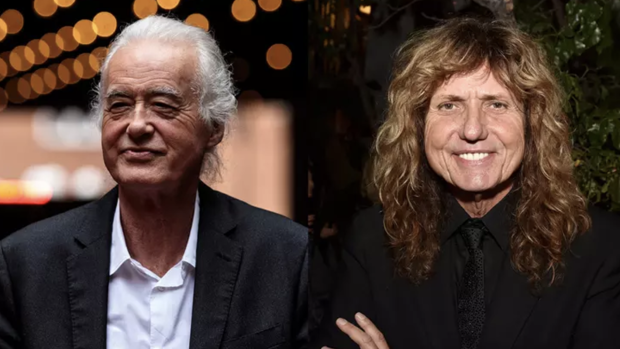 David Coverdale is doing his part to draw new music out of Jimmy Page.
The Whitesnake and Deep Purple Mk. III frontman has been working with Page on a reissue of their 1993 Coverdale-Page album, which he hopes will contain previously unreleased tracks and, possibly, something brand new.
"We've got four unreleased tracks, which just need to be mixed," Coverdale told Eddie Trunk in a recent conversation. "But since we reconnected, I've been messing around, writing at home. And I have two ideas which could make really fun tracks, just to throw at him ... 'See what you can do with this.' The way we did it before. We wrote really very potent music together."
Coverdale recently secured all the necessary rights to the album, so he and Page are free to do with it what they will.
"I've got a couple of ideas," he reiterated. "I wanna see if we can write courtesy of FaceTime or Zoom."
Page has repeatedly expressed a desire to release new music and get back on a stage in recent years. This past December, he revealed that he's been playing guitar every day during lockdown. He hopes to be ready to perform again once the pandemic lets up.
Coverdale continued, saying that it will probably be a few months at least until he and Page are able to make any substantial progress on a reprise of their two-man band. Page is spending lockdown in the countryside, away from the recording studio at his home in London.
Once Page is back in the city, Coverdale says there's no reason the pair can't collaborate virtually.
"I can record stuff over here, send him the drive for him to do his part and we can mix it through the technology now, which is something you couldn't do before," Coverdale said. "... I'm hoping we can get some new bits and pieces and ideas and put that into play next year when it will be safer to get around."
Page has spent much of the last decade remastering Led Zeppelin's catalog and exploring his personal archives. He last performed live in 2007 with Led Zeppelin at the band's Celebration Day concert.
Coverdale has been trying to coax Page out of his semi-retirement for years, once telling a Swedish publication that the guitarist's lack of new music "breaks my heart, 'cause he's such a f---ing valuable musician."
This article was first published on iheart.com and is republished here with permission