Dave Grohl wrote this Foo Fighters song while living with Kurt Cobain
Publish Date

Thursday, 30 September 2021, 8:43AM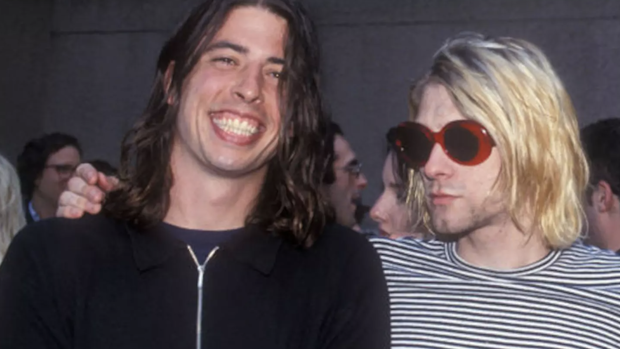 Between Nirvana's Nevermind turning 30 and his memoir The Storyteller coming out next month, Dave Grohl has been taking a major stroll down memory lane lately.
During a recent interview with Rolling Stone, he revealed that he wrote a batch of songs while living with Kurt Cobain in Olympia, Washington.
"When I had just joined Nirvana, I didn't have a guitar," Grohl recalled. "I would play Kurt's guitar, and Kurt [was] left-handed, so I learned how to play the guitar upside down. That's a little weird, but you find chords that you otherwise would never find. Kurt would go sleep and go in his room and I'd just be, like, sitting there. I slept on this little couch. I would spend all night playing guitar, but I had to be quiet because I didn't want to wake him up. So I started writing all these moody, whispery songs."
One of those songs ended up being "Friend of a Friend," which was featured on Foo Fighters' 2005 album In Your Honor.
That's not the only Foos song that has ties to Grohl's late bandmate. He also told the outlet that the band's 2011 song "Walk" was inspired by Cobain's death.
"It kind of comes from the day after Kurt died," he explained. "Waking up that morning and realizing, 'Oh, s**t, he's not here anymore. I am. Like, I get to wake up and he doesn't. I'm making a cup of coffee. And he can't. I'm gonna turn on the radio. And he won't.' That was a big revelation to me."
"I think also in life, you get trapped in crisis, where you imagine there's no way out," he continued. "When really, if you dare to consider that crisis a blip on the radar, it's easier to push through. And, yeah, I was just like, 'I don't want anyone to have that feeling that I had that morning.'"
Take your Radio, Podcasts and Music with you