Dave Grohl says new Foo Fighters album was inspired by Bowie & The Cars
Publish Date

Wednesday, 11 November 2020, 2:35PM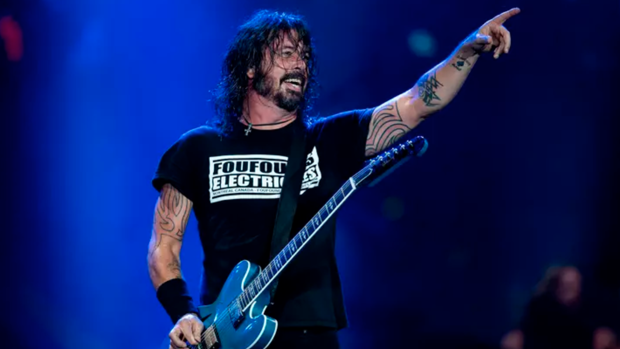 The Foo Fighters' tenth studio album is meant to sound like just what America needs right now: a good time.
Frontman Dave Grohl noted to 'Alt Nation' that the Foos' long-awaited new LP, Medicine At Midnight, is also their 25th anniversary album. It is, in many ways, a reaction to the band's legacy.
Over the course of the writing sessions, Grohl says he and his bandmates looked back on their nine previous albums, discussed where they've been and where they ought to go next.
"We've made that loud sort of noisy punk rock fast stuff. We've made the sleepy, kind of, gently acoustic record stuff. We've done the three- or four-minute-long bubblegum rock and roll, pop, single thing before. And it was like, 'Well, what haven't we done? And we had never really made a groove-oriented, sort of, party record."
Grohl cautioned against putting descriptors like "dance," "funk" or "disco" next to the Foo Fighters' name, but he says there are plenty of classic rock records that people could "bounce around to, like The Cars. Oh my God, we love The Cars. Or David Bowie's Let's Dance. Or Power Station. Or The [Rolling] Stones' Tattoo You — things like that. We're like, 'All right. We've never really explored that territory before. Let's do it."
If the past two-and-a-half decades have proved anything to Grohl, it's that the Foo Fighters can do "almost anything" if they agree on a direction.
The band debuted its latest single "Shame Shame" on Saturday Night Live. Grohl says the song shows the band's intent to do something new, but it's not a great example of the type of album-long groove fans will hear for the majority of Medicine At Midnight.
"You want to give people some sort of indication, like, 'Okay, this isn't exactly like the other nine records. This is moving into another territory," he said of the decision to release "Shame Shame" first. "It's not necessarily indicative of all of the other songs, but it does have its place on the record. It serves its purpose. And I love it, because it's just different than anything we've ever done."
Medicine At Midnight is set to arrive February 5, 2021.
This article was first published on iheart.com and is republished here with permission