Dave Grohl keeps begging his daughter Violet to let him be in her band
Publish Date

Thursday, 28 January 2021, 8:54AM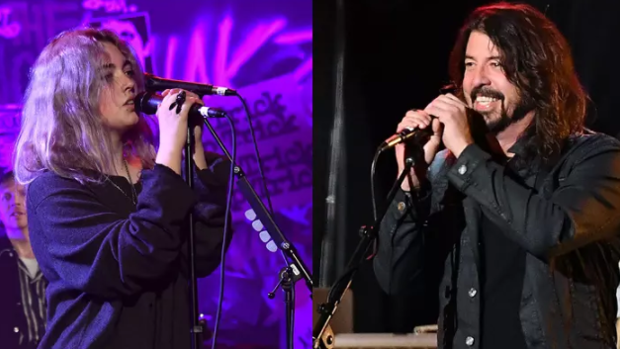 All parents have dreams for their children. Dave Grohl is no different; it's just that in his dream for his teenage daughter Violet, he's playing drums in her band.
In the years since writing and recording the first Foo Fighters album all by himself, Grohl and co. have gotten more keen on having guests contribute to their albums.
The Foos' welcomed at least 10 guests into the studio for their last album, Concrete and Gold, including Paul McCartney, Justin Timberlake, Allison Mosshart and Shawn Stockman. Grohl even tried to get Adele to drop by a session.
Foo Fighters' forthcoming record, Medicine at Midnight, features Violet on one song. Her dad couldn't be more proud, plus it brings him one step closer to getting hired in her band.
Foo Fighters recorded their latest record at a site not far from Grohl's California home. He told the BBC that he would take a break early each afternoon to go pick Violet up from school; sometimes he would take her home, sometimes she'd want to go hang out at the studio to listen and do her homework.
"One day, [producer] Greg Kurstin said: 'Hey Violent, would you like to do a back-up vocal?' And she got behind the microphone, she did a few takes and on the chorus of 'Make A Fire,' that's Violet's high vocal in there," Grohl recalled.
"It seemed very natural [but] it didn't seem official until my accountant called a few months ago and asked where she should deposit Violet's check."
Violet has sung onstage with her dad a number of times, most notably last winter when she sang Nirvana's "Heart-Shaped Box" with her dad on drums and Krist Novoselic on bass at an all-star fundraiser for Art of Elysium.
Grohl says his eldest daughter is "the best vocalist in the Grohl family."
"Violet is an incredibly talented musician," he continued. "She can pick up an instrument and learn it within a week. She has perfect pitch and sings from her gut. To be her drummer is one of my life dreams."
Grohl also thinks tremendously highly of Violet's taste in music. He told Sunday Times Culture that she once mentioned wanting to make a shoegaze album, in the vein of My Bloody Valentine.
"I was like, 'Yes. Yesss!'" Grohl gushed, before admitting that his next thought was, "Can I be on your record, please?'"
Whatever Violet ends up doing, musically, Grohl is sure it's going to be good.
"She's 14 and already in a deep Bowie phase," he added. "I'm not talking about '80s Bowie or '90s Bowie — she hasn't even got to Berlin. All she does is listen to live bootlegs of the 'Station to Station' tour."
Foo Fighter's 10th studio album, Medicine at Midnight, is due out February 5.
This article was first published on iheart.com and is republished here with permission