Dave Grohl has a roller coaster of an anxiety dream about Nirvana
Publish Date

Tuesday, 2 February 2021, 9:33AM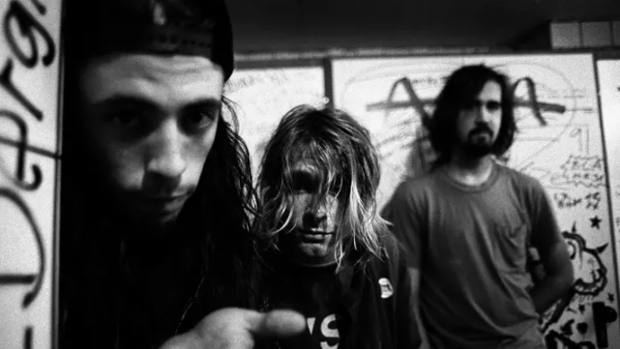 Nirvana was Dave Grohl's first big break — a rocket ship that blew his musical aspirations up to a magnitude he never thought possible — and then it was over; he never got closure.
Earlier this January, Grohl revealed that he's had a recurring dream about Nirvana for the past 24 years or so, where Kurt Cobain just shows up as if no time has passed and Nirvana has a gig in an hour.
In the conversation with Classic Rock magazine, Grohl described the dreams as complex emotionally, filled with joy and excitement. But in a more recently published conversation with the Independent, he revealed that there's another, murkier wrinkle to the dream that shows up sometimes.
"They always give me this initial burst of happiness and joy, because Kurt is always in them," Grohl said. "It's like: 'Oh! He's still alive!' There's never any explanation for that. Just that lovely feeling. Then it all goes wrong when we go on stage. There's no one in the audience and my drum sticks stretch to the size of telephone poles."
Grohl is an optimist, he says, and he believes there's something significant about his Nirvana dreams — that they signify "some energy or interconnectivity" that makes them more than mere hallucinations of the subconscious."
Nirvana co-founder bassist Krist Novoselic explained in a 2014 interview that he has an eerily similar dream to the one Grohl describes, but without the looming disaster.
"I'm so happy to see him in a dream, like, 'Oh my god, it's so good to see you,'" the bassist recalled. "Then we're always like, 'Okay, let's go play.' We're always going to go play music, so there's some kind of connection there, which is good. That's what it's all about."
By his own admission, it took Grohl close to a year to feel like himself again following Cobain's suicide — and years after that to be able to listen to Nirvana's music without wincing. Starting the Foo Fighters, he says, was a "form of purge or exorcism," musically, that gave him purpose again.
With the Foo Fighters' 10th studio album arriving Friday, Grohl says he can't believe how much has happened since Nirvana, or why he hasn't figure out how to do something else.
"...[F]or the past 25 years I've been locked into this same cycle. We record a record, we go 'round the planet three f---ing times with it and say we're never doing that again. We're exhausted. We never want to see an instrument again. Two weeks later, I'm on the couch writing another record."
This article was first published on iheart.com and is republished here with permission