Dave Grohl compares meeting 10-year-old Nandi Bushell to meeting a Beatle
Publish Date

Wednesday, 11 November 2020, 2:58PM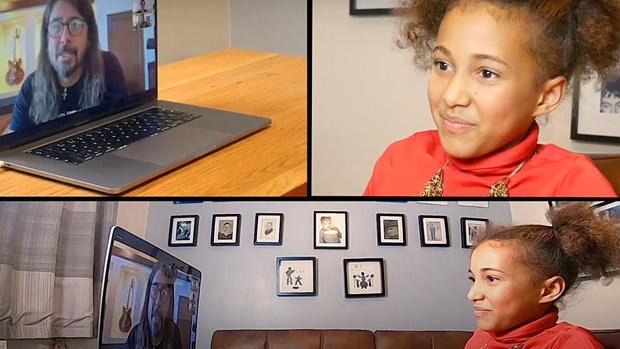 Just when you thought Dave Grohl and Nandi Bushell's relationship couldn't get any cuter, the 10-year-old prodigy posted a video of her Zoom chat with the Foo Fighters frontman, and it is truly EPIC.
"I get to meet a rockstar!" Dave exclaimed before comparing the experience to meeting a Beatle.
Have you been playing drums a lot?" He asked.
"A lot," a starstruck Nandi replied.
"I haven't," the Nirvana drummer admitted. "I quit playing drums because I realized I'll never be as good as you."
Later in the conversation, Dave told Nandi he has an idea for his next drum battle response and asked if she would get onstage with the Foos whenever they're able to play in the UK again. "It has to be at the end of the set, because you're gonna steal the show," he said. "If you come out first, it's just gonna be all downhill."
He also asked if she wanted to make a song together.
"Yeah, definitely!" Nandi said.
"Well I'm not playing drums, I'll tell ya that," Dave told her. "I'll play guitar, you play bass and drums, and we can both sing together."
At the end of the video, Dave divulged to Nandi that he was nervous to meet her.
"I wasn't nervous, because you've just gotta do it. Go for it," Nandi said
"Can you please run for president?" Dave asked.
Now that's a candidate we can all agree on. Watch their heartwarming meeting above.
This article was first published on iheart.com and is republished here with permission