Dave Grohl, Chad Smith, and Shane Hawkins take the stage at a California pizza bar
Publish Date

Thursday, 24 August 2023, 10:24AM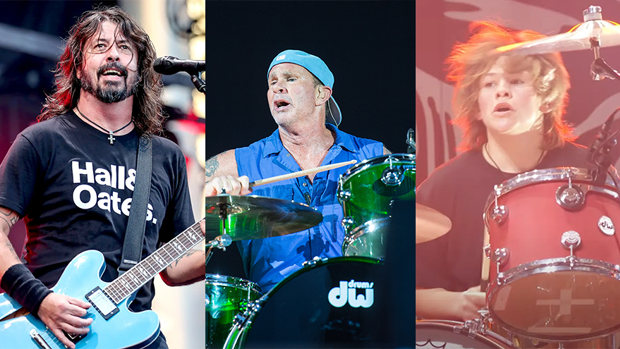 Joining forces, Dave Grohl, Chad Smith, and Shane Hawkins have united to perform a lineup of timeless rock anthems at a California pizza bar. Explore candid fan-recorded videos capturing this extraordinary instance.
For more details, delve into the Taylor Hawkins Tribute Concert: "An immense night honoring a colossal individual." This exclusive and celebrity-filled performance unfolded on Monday evening (August 21) at Rock N Roll Pizza Bar in Simi Valley, California. The event was integrated into a set presented by the renowned cover band, Chevy Metal.
Established by the former drummer Taylor Hawkins, who frequently engaged with this side project during intervals from his responsibilities with Foo Fighters, the band came into being. Presently, surpassing a year following his passing in Colombia, the lead vocalist of the band stepped onto the spotlight for a joint performance, accompanied by his adolescent son, Shane.
Commencing the performance, Grohl set the tone by taking up the guitar and lending his supporting vocals. The band inaugurated their 17-song repertoire with a rendition of The Police's 1978 track "Next To You." This was followed by an immediate transition into an array of additional rock classics, encompassing Thin Lizzy's "Jailbreak" and The Rolling Stones' "Bitch."
The lineup continued with a consecutive trio of Van Halen covers: "Everybody Wants Some!!," "Jamie's Cryin'," and "Unchained." Furthermore, the set featured interpretations of songs by Led Zeppelin, Black Sabbath, Mötley Crüe, and The Kinks.


Take your Radio, Podcasts and Music with you