Dave Grohl addresses lawsuit over 'Nevermind' album cover
Publish Date

Tuesday, 5 October 2021, 6:57AM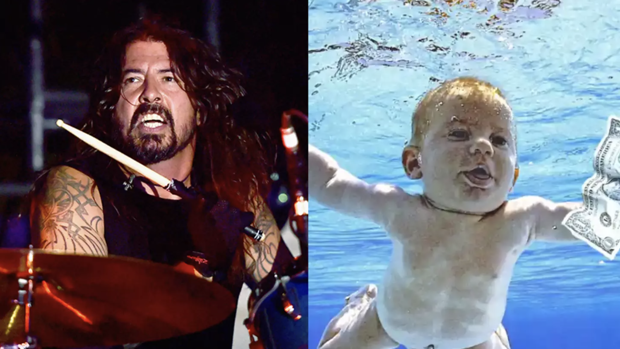 While it's unclear if a court will force Nirvana to redact the image on its iconic Nevermind album cover, per a lawsuit by the now-30-year-old cover model, Dave Grohl revealed in a new interview that he's considering ways the band could possibly resolve the complaint.
Spencer Elden, the man who was photographed for the cover of Nevermind as a four-month-old baby, sued Nirvana this summer, claiming that his image was exploited by the band.
Elden says he was too young to consent to his image being used on the album and that the band broke its promise to cover his genitals with a sticker when the album was distributed. He says the album cover as it has existed for 30 years amounts to child pornography.
When the suit was brought up to Grohl in an interview with The Times, the Nirvana drummer was typically unfazed.
"I have many ideas of how we should alter that cover but we'll see what happens," he said. "We'll let you know. I'm sure we'll come up with something good."
Rather than take offense at the more salacious claims in the lawsuit, Grohl added, "I think that there's much more to look forward to and much more to life than getting bogged down in those kinds of things. And, fortunately, I don't have to do the paperwork."
Elden's lawsuit names 15 defendants, including Grohl, Krist Novoselic and Kurt Cobain's estate. He's seeking millions in damages and for the Nevermind cover to be altered on future editions of the album.
Nevermind turned 30 years old in September and the band reportedly has plans to reissue it in November with as many as 70 previously unreleased tracks. It's unclear whether Elden's lawsuit has or will delay the reissue.
Take your Radio, Podcasts and Music with you