Brian May is rooting for The Beatles to make a 'BoRhap'-like biopic
Publish Date

Saturday, 19 February 2022, 9:00AM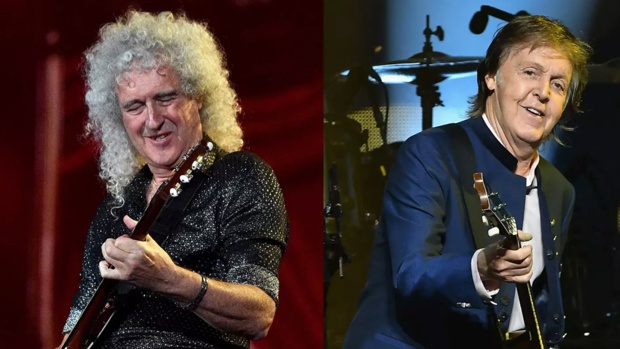 Queen's 2018 Bohemian Rhapsody movie remains the most successful music biopic of all-time, but Brian May would happily cede that title to The Beatles — he just wants to see their movie, and he wants to see The Beatles on top, where they belong.
BoRhap shattered box office records en route to winning nine Academy Awards and vaulting Queen's music back up the charts.
The Beatles have remained in the cultural zeitgeist, thanks in part to a steady stream of film and documentary projects, but that doesn't mean there's any less of an appetite for more. May suggested that the Bohemian Rhapsody film vaulted Queen beyond The Beatles in popular culture — a dynamic he thinks is backwards, if true.
"The Beatles were our Bible," May told Express in a new interview. "Absolutely at every stage in their career and their music development, they were models. And they still are to me, I must say. I love all those albums. To me, they are the greatest. They are the pinnacle of writing, performance and ethos of rock music. They broke down so many barriers, they changed the world many times. I will always love the Beatles without any reservation."
May considers The Beatles essential learning for young people, no matter their generation.
"I fee like [The Beatles have] been underrepresented in the world as it is today," he continued. "The kids today don't know the Beatles as much as they ought to. The Beatles should be woven into people's live in the way Queen music is these days."
Recent Beatles-related films include Peter Jackson's 2021 The Beatles: Get Back docuseries, Paul McCartney's 2021 McCartney 3,2,1 docuseries, the 2019 dramatic film Yesterday, the 2018 documentary John & Yoko: Above Us Only Sky and Ron Howard's 2016 documentary The Beatles: Eight Days a Week.
But if May doesn't think it's enough, it only goes to show that he's a real fan.
Take your Radio, Podcasts and Music with you