Brian Johnson recalls pure joy of first 'PWR/UP' album sessions
Publish Date

Thursday, 26 November 2020, 9:17AM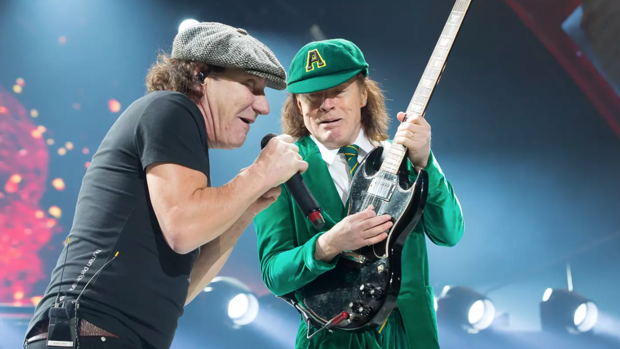 AC/DC frontman Brian Johnson wasn't sure he'd ever be able to sing again due to hearing damage that in 2016 brought an abrupt end to his tenure with the band.
Shortly after bowing out of the tour on his doctor's recommendation (he was told if he continued to tour, he would risk going deaf), Johnson was approached about trying out cutting edge in-ear monitoring technology that eventually gave him the protection and confidence to get back onstage.
Johnson said in a recent radio interview that despite the circumstances of his 'Rock or Bust' tour departure, Angus Young kept in touch.
"And I think about a year-and-a-half later, Angus just said, 'You fancy doing a new album? I'm gonna ask Cliff [Williams] and Phil [Rudd].' And I thought, 'Oh that's the old voice, the real one!'"
The bassist Williams, who retired following 'Rock or Bust,' was enthusiastic about getting back in the studio with his old band. Longtime drummer Rudd, who was prevented from touring in '16 due to legal issues, was moving beyond his troubles and eager to return to his seat at the drums.
"And there we were all of a sudden in 2018, we found ourselves in Vancouver in the studio — the boys! And the electricity in that room, I can only tell you — damn! It was something I never experienced before."
The hiatus alone had refreshed the band, but Johnson says they were additionally motivated due to the 2017 passing of co-founder Malcolm Young. The band was convinced their mission was to make something their late-bandmate would be proud of.
"We realized very early on that this was going to be tribute to Malcolm Young," Johnson said. "You could feel that he was there, and the songs that Angus brought with him were songs that he and Malcolm had done about 2007, 2006. They weren't completed by any means, but the riffs were there, the chorus, verse ideas and titles — they always came up with the best titles, Angus and Malcolm. And Brendan O'Brien, the producer, he was there."
The PWR/UP sessions were some of the most positive in the band's history, with everyone on the same page. Johnson added that the album title is a reference to what the band would always say at the beginning of rehearsal: "Come on, right, let's power up — put the amps on, get the guitars up..."
PWR/UP has so far received rave reviews and an even more enthusiastic reception from fans, who've made the album the No. 1 seller in 18 countries, including the U.S., the U.K., Canada and AC/DC's home nation of Australia.
This article was first published on iheart.com and is republished here with permission