Brian Johnson applauds Axl Rose for 2016 stint in AC/DC
Publish Date

Sunday, 15 November 2020, 8:17AM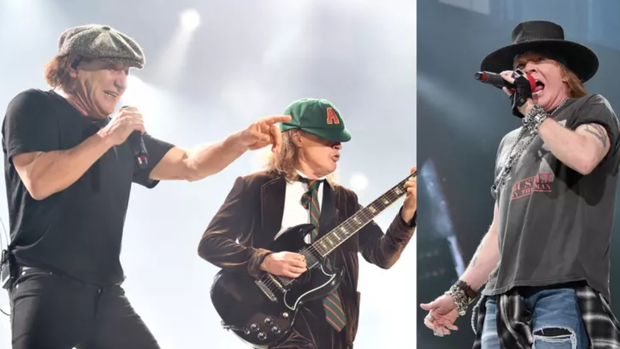 Longtime AC/DC frontman Brian Johnson was completely impressed with Axl Rose's brief, emergency tenure in the band on its last tour in 2016.
Rose joined AC/DC a few weeks after Johnson departed the band's 'Rock or Bust' tour due to severe hearing loss issues. The majority of AC/DC's world tour was ahead of it and it was unclear if Johnson would ever be able to sing again.
Despite the controversy that came with the decision, members of the band have repeatedly praised Rose's efforts to save their tour.
Johnson tells Ultimate Classic Rock that Rose walked into a huge challenge and performed admirably in spite of the pressure and constant criticism.
"He jumped into a tough, tough vocalist gig," Johnson said. "You've got to be on top of your game for that. There's not many resting places. You've really got to go in full chop, all of the time. And for him to do that at such short notice was pretty fantastic. I've got a lot of respect for what he did, you know. A lot of respect."
AC/DC's 17th studio album, PWR/UP, is coming out on Friday.
Johnson is back in the band after getting treatment for his hearing issues and new equipment to protect his ears from further damage, should AC/DC get back on tour.
Guitarist Angus Young recently explained that Rose — a lifelong AC/DC fan — contacted the band after learning of its predicament with Johnson and "volunteered" to help as long as it didn't interfere with his obligations with Guns N' Roses.
"Axl was really very generous, and he helped us out to get through our touring side at a difficult spot," Young said in a recent interview with Total Guitar.
He added that the idea of Rose joining the band full-time after the 'Rock or Bust' tour was never discussed.
This article was first published on iheart.com and is republished here with permission