Bon Scott once raved to AC/DC about Brian Johnson's inspired "howling"
Publish Date

Tuesday, 2 March 2021, 9:03AM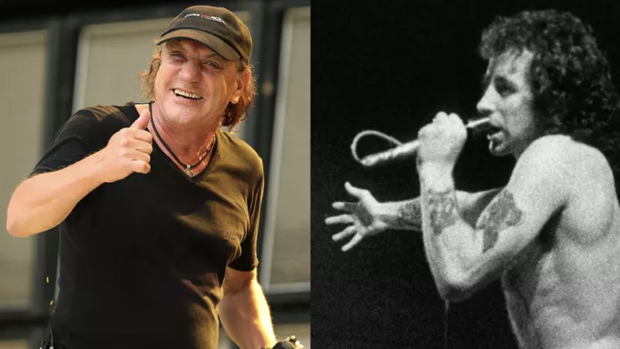 No one knew it at the time, but Bon Scott raved about his eventual AC/DC successor Brian Johnson years before Johnson was in line for the job.
Bon and Johnson toured the U.K. together in separate bands in 1973 or 1974, not long before Bon joined AC/DC in late-'74. Bon was so blown away by Johnson's voice and wild stage presence that he related the experience to his AC/DC bandmates.
Guitarist Angus Young recalled the serendipitous connection in a recent radio interview.
"They were gigging away, and as Bon told the story, he was saying he was listening to [Johnson's band] Geordie performing and listening to Brian, and the he heard this screaming," Young said. "He said it sounded great — he said it sounded like Little Richard was on the stage. He said this guy was howling and yelling. And then he said then he saw the guy on the floor. Bon thought it was great — it was the best act he had seen and ... singer in a long time."
While both Bon and Johnson would later become known throughout the world for their trademark hard rocking shrieks, what Bon actually witnessed that night was Johnson in the throws of a life-threatening medical emergency.
"...[A]fterward he found out, Brian had an attack of appendicitis. But Bon thought it was part of the act," Young continued. "He thought, 'This guy is incredible. And he was still hittin' these high notes.'"
While Bon didn't fully understand what he saw that night until later, Johnson's performance is only more admirable the more we learn about it. Johnson himself told his side of the story in a 2011 interview with the New York Post.
"I had a terrible case of appendicitis and I went down on my side, kicking and going, 'Ooh!' But I kept on singing," he said. "Apparently, [Bon] told the boys when he joined AC/DC, 'I saw this guy Brian Johnson sing, and he was great. He was on the flood, kicking and screaming — what an act!' Of course, it wasn't an act. I was really ill."
Bon died in London on February 19, 1980, after a long night of drinking, just days before AC/DC was due to start writing for what became Back in Black. About three months later, the band hired Johnson as Bon's replacement and shipped off to the Bahamas to make the album.
This article was first published on iheart.com and is republished here with permission