Bloc Party are ferocious - so why the nostalgia?
Publish Date

Tuesday, 20 November 2018, 11:39AM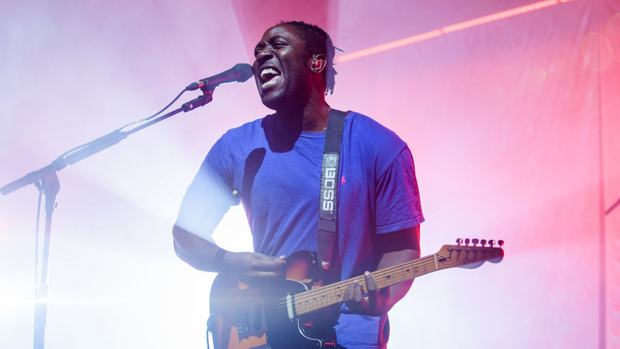 By: Chris Schulz
Kele Okereke, oozing London cool with his taut braids and sports jacket, hulks over his guitar, steps back from his microphone, and yelps: "We're going to reinvent! We're going to reinvent!" over and over again.
If there was any sense of irony, it was lost in the cacophony coming from behind him, as Bloc Party's spiked riffs, courtesy of diminutive guitarist Russell Lissack, and complicated fills, thanks to new drummer Louise Bartle, climaxed on Price of Gas.
That song was one of many played from Silent Alarm, Bloc Party's exceptional debut that was named the best album of 2005 by NME. It's the same album being celebrated on their new world tour, one that kicked off with their biggest New Zealand show yet at Spark Arena.
On a weekend that included Talking Heads founder David Byrne playing the same venue the night before, and R&B veterans Usher, Naughty By Nature and Salt-N-Pepa playing to 25,000 at Western Springs Stadium, a little nostalgia by the Brit-rock titans made sense.
But for a band just 13 years into their career, with five albums to their name, embarking on a tour celebrating Silent Alarm - an album that sounded ahead of its time upon release - surely seems just a tad too soon.
When you consider the amount of vocal fans, around 5000 of them, that showed up on a school night to celebrate with Okereke and co, it seems like an alarming statement on the pace of the music industry that Bloc Party are already hitting the nostalgia circuit.
It also seems strange when you see Bloc Party live. They are taut, lean and mean. They sound phenomenal.
Quite simply, they're ferocious.
Much of that is thanks to Okereke, his bulging biceps making his guitar look like a toy as he rips through those angular riffs for Helicopter or Like Eating Glass, songs that inhale the fumes of Blur and the Londonised tales of The Streets to spit out blistering Brit-rock anthems of inequality.
It was a show that started great and kept getting better over its 90 minutes. One of the night's true highlights was delivered by Bartle, Bloc Party's new drummer who has taken over for Matt Tong, a founding member famously hospitalised for a collapsed lung following a Bloc Party gig.
It's no surprise: there's nothing simple about Bloc Party's skittery, complicated drum patterns, but Bartle, a grimace of concentration throughout the show, delivered a masterclass in taught, muscular precision.
After equally impressive appearances at the TelstraClear Pacific Events Centre in 2007 and the Powerstation in 2013, last night was further proof that Bloc Party remain a going concern, and made the night's cap of nostalgia feel like an even weirder fit.
"I'm on fire," yelped Okereke during Banquet, one of the night's many blistering highlights. There's no need to reinvent, and there's no need for the nostalgia. They just need to keep doing what they're doing, because Bloc Party are very, very good at it.

This article was first published on nzherald.co.nz and is republished here with permission.
Take your Radio, Podcasts and Music with you