Blink 182's Travis Barker re-admitted to hospital with blood clots
Publish Date

Thursday, 21 June 2018, 8:33AM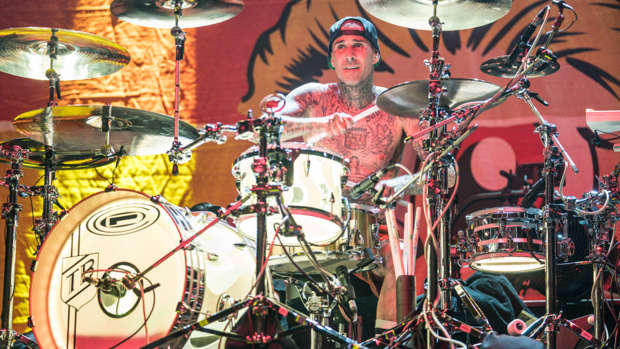 Travis Barker has been re-admitted to hospital after being struck down with cellulitis as well as
released on Monday evening (18.06.18) only to return on Tuesday morning (19.06.18) suffering from the skin infection. 
Sources told gossip website TMZ that despite heading back to the medical facility to battle cellulitis, the Blink-182 stickman has a "positive attitude" and is looking forward to returning to the stage. 
Travis took to his Twitter last week to reveal he was suffering from blood clots and a staph infection. 
He tweeted: "Blood clots in both arms and a staff infection wasn't the news I was hoping for. I'll be back soon, thanks for all the love & prayers (sic)"
As a result, Blink-182 had to postpone their Las Vegas residency at the Palms Hotel and Casino on Friday (15.06.18) and Saturday (16.06.18), on doctor's orders.
A statement posted on the band's Twitter reads: "Friends, Travis Barker is suffering from blood clots in both arms and unfortunately cannot perform until cleared to do so by his medical team.
"The situation is currently being closely monitored.
"Due to this situation it is with great regret that Blink-182 'Kings of the Weekend' Las Vegas residency dates this weekend must be rescheduled. 
"New dates will be posted on the band's website shortly.
"If you are not able to attend the rescheduled dates, refunds will be available at point of purchase. (sic)"
Travis added: "Drumming is my life and it kills me that I can't perform for you guys this weekend.
"I hope to be back as soon as I can - Travis Barker."
It's not known if Travis will be fit enough to perform on June 23 or June 24.

This article was first published on BANG Showbiz and is republished here with permission.