Blink 182's Mark Hoppus's son thinks he's lame
Publish Date

Wednesday, 13 June 2018, 8:43AM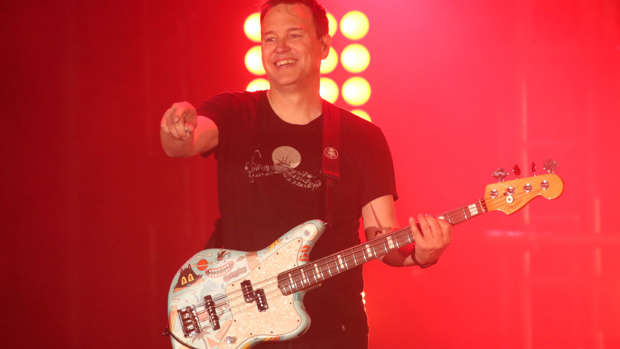 Mark Hoppus' teenage son thinks his father is "lame".
The Blink-182 bassist-and-singer has opened up about his relationship with his 15-year-old son Jack - whom he has with wife Skye Everly - and how he doesn't think his pop is "cool", even though he's in one of the biggest rock bands of past two decades.
The 'All The Small Things' hitmaker told People magazine: "My son was telling me at one point about not being cool and I was like, 'What are you talking about? I play in a rock band. I'm cool.'" Hoppus told PEOPLE. "And he said, 'Yeah, you're, 'Guy in a band' cool, but you're not like cool-cool. I think my son likes what I do, but at the same time he kind of rolls his eyes at me and thinks I'm a lame dad."
Mark likes to use his Twitter page to document his dad moments.
Examples include in 2015, when he got over-excited about a boring Christmas present from his boy.
He wrote: "Dad level: for Christmas I got an extension cord and am super stoked about it."
And in the same year, he told his followers about having to moan at Jack and his pals.
He said: "Current dad level: yelling at my son and his friends to not run by the pool."
Meanwhile, the 46-year-old rocker is currently performing a Las Vegas residency at the Palms Casino Resort between May 26 until November 17, and he says he and his bandmates - Travis Barker and Matt Skiba - have had to "work a little harder" to ensure they put on a dazzling show in Sin City.
He said: "Playing in Vegas is like playing a festival. There are people from all over the world who are in Vegas. Some people are coming strictly to see your show.  Some people just happen to be here and come because we're in town. I feel like you have to work a little harder to win the audience over because there is so much stuff to do. You can go watch 'Cirque du Soleil' and have people launch themselves 30 feet in the air. We have to come up with a really good show to compete with that."
Mark previously joked that the 'Kings of the Weekend' shows will be filled with showgirls and Frank Sinatra songs.

This article was first published on BANG Showbiz and is republished here with permission.