Blink-182 members mourn the death of Tom DeLonge's guitar tech
Publish Date

Friday, 19 March 2021, 12:31PM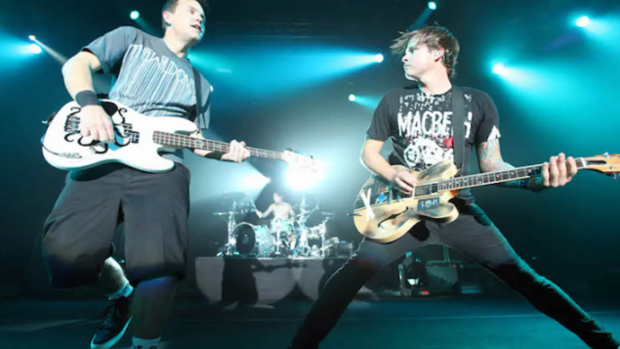 Blink-182 has lost a part of its family. On Tuesday (March 16), the band's members mourned the death of Tom DeLonge's longtime guitar tech, Doug Reesh.
"Doug, I love you. You were such an amazing man. You supported me throughout my many musical lives, and I always found you to be loyal, kind, caring and wise," Tom began a lengthy tribute on Instagram. "When I got skin cancer, you were the only one that shed tears... When I was having a bad day, you wrote jokes on my set list to make me smile... When I slipped and fell flat on my face in front of 7000 people, you taped the outline of my body on the floor to get a laugh from the band as we walked on stage the following night. You cared for my children each night on the side of the stage when Jonas and Ava were so small they couldn't see....You tuned my guitar flat, because I hit the strings so hard I needed the variation to be in tune."
"You did everything a modest guitar player could have hoped for when the pressure was enormous. But- what you did best, was be my friend," he continued The world was a better place with you, and now heaven will be a better place with you, as well. 🤘🏼❤️ To your next Adventure- Life's waiting to begin..."
"See you again, my friend. 🖤" Mark wrote alongside an old photo of Reesh. Travis shared a simple tribute to their crew member on Instagram Story, writing "Rest In Peace Doug."
Aside from working with blink-182, Reesh also supported Tom in Angels & Airwaves. See Tom and Mark's posts below.
This article was first published on iheart.com and is republished here with permission