Black Sabbath's only request of Dio on second LP - "No Rainbows, No Dragons"
Publish Date

Wednesday, 19 May 2021, 10:55AM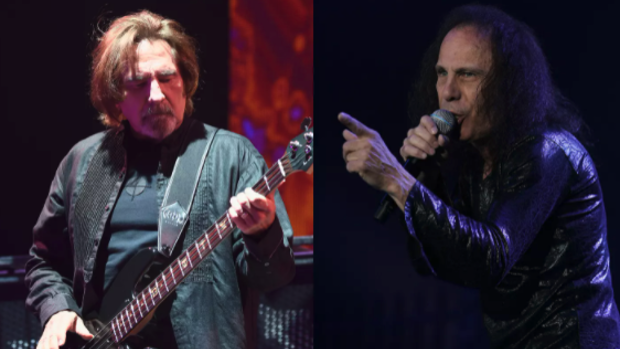 Co-founding Black Sabbath bassist Geezer Butler and guitarist Tony Iommi looked back on the band's 1979 alliance with Ronnie James Dio in a new interview, published on the 11th anniversary of Dio's passing.
Earlier this year, Black Sabbath celebrated its Dio years with deluxe reissues of their two hugely influential albums together, Heaven and Hell and Mob Rules.
Heaven and Hell in 1980 was an instant classic that followed two under-performing, under-inspired albums with Ozzy Osbourne.
Butler, who was Sabbath's primary lyricist in its first decade, tells Goldmine that it was "an incredible relief" to be free of the pressure of writing all the band's lyrics. Dio had a distinct style of his own, and Sabbath let him loose on Heaven and Hell.
But by 1981, Dio's bandmates were looking for a bit more input on lyrics.
"His stuff, I think it's more fantasy and dragons and all that kind of stuff," Butler said. "Mine was more a lot of politics and everyday occurrences, while his were more surreal and out of this world kind of thing. When it came to the second album, the only thing that was said to him was like, no rainbows and no dragons. (Laughs) That was it. He got the message and did what he did."
Both Heaven and Hell and Mob Rules were critical and commercial successes. By 1983, Dio bid Sabbath adieu to launch his solo career, where he was free to sing about dragons, rainbows and tigers as much as he pleased.
The group would reconnect for 1992's Dehumanizer and again for 2010's acclaimed swansong The Devil You Know.
"Ronnie could sort of adapt, with his voice, and it created a different vibe altogether and started us off writing some different new material," Iommi told Goldmine. "We had been in a bit of a doldrums. Once Ronnie got involved, it made us work and made us think more about what we were going to do. And he was encouraging us to do more. It was really refreshing."