Black Sabbath never worried about Dio being accepted as lead singer by fans
Publish Date

Saturday, 20 February 2021, 2:03PM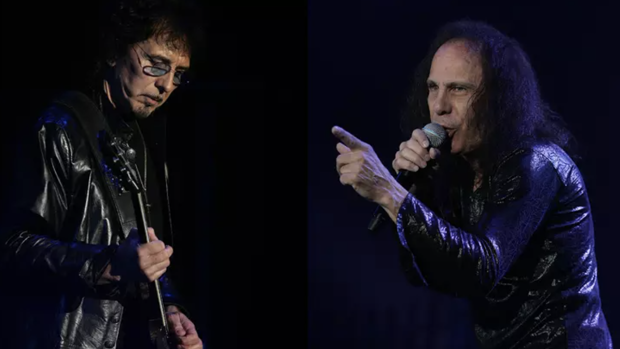 Black Sabbath didn't take lightly its decision to part ways with Ozzy Osbourne in 1979, but it was clear that something had to give in order for the band to continue.
Alcohol abuse and cocaine addiction had run amok within the band for years, frayed the co-founders' relationships and eroded their creative spark. Ozzy left the band briefly in 1978 and then returned.
Tony Iommi tells Ultimate Classic Rock in a new interview that the band's last tour with Ozzy in the '70s — the 'Never Say Die' tour — proved that he needed to move on.
Ozzy's successor, Ronnie James Dio, sounded nothing like the Prince of Darkness, and that was perfect, as far as Sabbath was concerned.
"When Ronnie came in, it was something very different. We didn't want to bring in somebody that sounded like Ozzy, because everybody'd be going, 'Oh, that sounds like Ozzy,'" Iommi said. "The idea was to bring in somebody who was completely different and get on with it. We were really confident with what we were writing, and we really liked it."
He continued, recalling that the band felt so confident with its new material, it wasn't worried about whether Dio would be accepted by the fans; Black Sabbath was having fun again.
"If it hadn't have done well, it wouldn't have mattered because we enjoyed what we did – and that's what it's always been about for us. You have to enjoy it and love what you're playing. I sort of enjoyed the slightly different direction it gave us, certainly with Ronnie's voice and his approach. It made me think differently [about playing]. … It was exciting and a challenge, really."
Iommi says bringing Dio into the band for the Heaven & Hell album, and then replacing drummer Bill Ward with Vinny Appice for the Mob Rules album reinvigorated him creatively.
"As a challenge, I enjoyed doing it — it made me think and work harder at it," he said. "Of course, hearing Ronnie's voice with the things I was playing encouraged me to go somewhere else, different than where I probably would've done with Ozzy. Also, Ronnie getting involved as well. He'd say, 'What about this part there?' or 'I like that bit' or 'Can you try a different chord there?' It was just trial and error. It was like a new chapter in our lives. It was good."
Dio's estate just announced that his autobiography, Rainbow in the Dark, will arrive this summer. While the singer passed away before he could finish the book, his wife and longtime manager (since 1974) Wendy Dio and journalist Mick Wall completed the book using interviews and other material Ronnie left behind.
This article was first published on iheart.com and is republished here with permission