Black Sabbath drummer has no idea why he was hired instead of Bill Ward
Publish Date

Friday, 7 May 2021, 7:52AM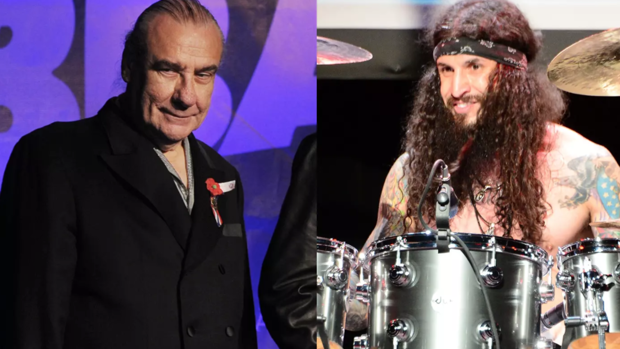 Touring Black Sabbath drummer Tommy Clufetos, who performed with the band on its 'The End' farewell tour, says he doesn't fully understand why he got co-founding drummer Bill Ward's job.
Asked on Rocking With Jam Man whether Ward "should" have taken the drum throne for Sabbath's last-ever show (which was in the band's hometown of Birmingham, England), Clufetos explained that answers to those questions were well above his pay-grade at the time.
"I'm the last guy in the world who has any idea of what goes on there, so I can't say, 'Should he? Shouldn't he?' because I don't know what was really going on," Clufetos said. "All I know is that I was asked to play drums. So I don't really concern myself with things that aren't in my control. That's between him and the band. So you're asking the wrong guy the question, 'cause I'm just a drummer and I keep my mouth shut."
Clufetos has been Ozzy Osbourne's live drummer since 2010. Being entrusted with replicating Ward's influential sound in Black Sabbath, he says, was one of the great honors of his career.
"It was a wonderful feeling...and it was an honor and a privilege to go on stage and be the guy [who was asked] to carry the torch to bring the music to the fans," he said. "And I really tried hard, my best that I could, to do justice to the great music that they created together — the four guys: Ozzy, Tony [Iommi], Bill and Geezer [Butler]. So I just tried to revere the music and bring the same vibe that the fans were expecting. And I was proud of what I did with those guys onstage. So it was a thrill and an honor for me."
While Clufetos kept his head down to focus on the gig, he might not have gotten answers if he started asking what happened to Ward. Ozzy and Iommi were admittedly unsure as to what happened between Ward and management that caused his absence.
Leading up to the conclusion of 'The End' tour in 2017, Iommi openly wondered "what the f---k happened" with Ward not being in Black Sabbath. He explained that since he was going through cancer treatments at the time, he didn't ask too many questions himself. The band wasn't sure how long Iommi's health would hold up, so there was pressure on it to forge ahead while Iommi was able.
Ozzy later told Kerrang! that he "didn't like the fact that Bill Ward wasn't there" on the final tour, but wasn't entirely sure what happened. Up until suffering a series of health setbacks in 2018 and 2019, the Prince of Darkness was hopeful for at least one last Black Sabbath show with Ward.
Ward has maintained that the contract he was offered by Black Sabbath's management circa 2013 for the final album and tour was unsignable. As much as he regrets not being part of the band's farewell, there are no hard feelings on his part, and he remains open to a future collaboration with Iommi, Butler and Ozzy, though he says his touring days are likely over.