Biography on John Bonham coming this year with foreword by Dave Grohl
Publish Date

Sunday, 18 April 2021, 8:00AM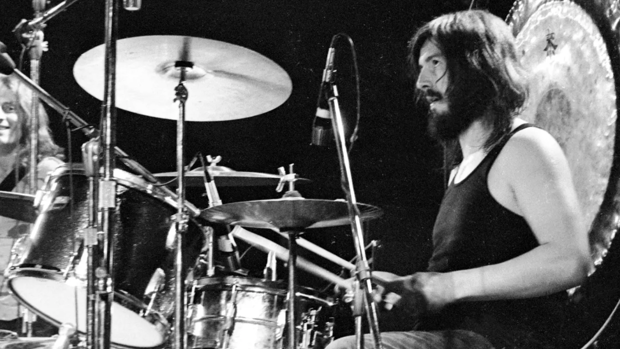 Iconic Led Zeppelin drummer John Bonham is the subject of a new biography, due late this summer.
C.M. Kushins' Beast: John Bonham and the Rise of Led Zeppelin explores the life and career one of rock's most influential drummers from his early life to his untimely death in 1980. The book arrives September 7 via Hachette Books and includes a foreword by Dave Grohl.
Bonham began playing the drums at age five. Despite never taking formal lessons, he was getting regular work in music by his teen years. While searching for steadier work in the late-'60s, Bonham connected with Jimmy Page and John Paul Jones in the New Yardbirds, which eventually changed its name to Led Zeppelin.
Zeppelin's rise in popularity following its debut album was practically meteoric. The band released two legendary albums in 1969 and completed four concert tours in the U.S. and the U.K, quickly moving from small clubs to theaters and then arenas.
"To this day, Bonham is posthumously described as one of the most important, well-known, and influential drummers in rock, topping best of lists describing him as an inimitable, all-time great," concludes the biography's description.
Like many rock drummers, Grohl considers Bonham the pinnacle of percussive prowess. Grohl has at least three Led Zeppelin tattoos, including Bonham's own emblem tattooed on his forearm. He recalled his obsession with Bonzo in a January interview with The Guardian.
"It's hard to explain, but his feel and sound is unmistakable and undefinable," Grohl said of Bonham. "Anyone can take the chart of what he played, but it would never be the same because it was as unique to that human as a fingerprint. I became like a monk, listening to these records and memorizing them. It was like poetry to me."
For more information on Beast, CLICK HERE.
This article was first published on iheart.com and is republished here with permission