Axl Rose spared no expense on thank-you to Dave Grohl for 'rock throne'
Publish Date

Monday, 11 January 2021, 8:56AM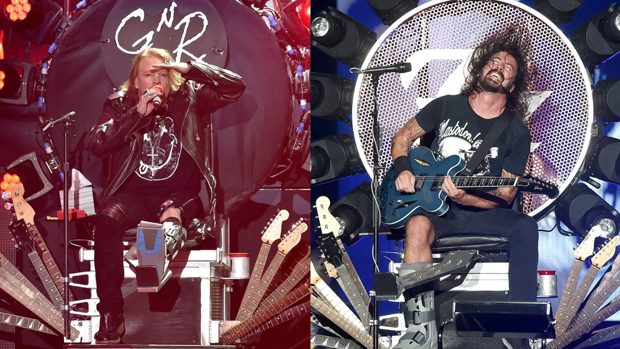 While Guns N' Roses and Nirvana used to be mortal rivals, when Axl Rose broke his foot at GNR's first reunion gig with Slash and Duff McKagan in early-2016, Rose wasted little time before reaching out to Dave Grohl for help.
Nirvana's former drummer suffered a broken leg the previous year when he fell off the stage at a Foo Fighters gig in Gothenberg, Sweden. Rather than cancel the remaining tour dates on account of the injury, the Foos crew crafted a perfectly ridiculous 'Rock Throne' for Grohl to rest his injured leg upon while performing the remaining shows of the tour.
When Rose broke his foot, he had a string of huge gigs coming up with both AC/DC and the revamped version of GNR. Rose had his and Grohl's mutual friend McKagan reach out to see if the Rock Throne was available for the next few months. It was.
After a few modifications, Rose used the throne for several weeks. Once his foot was stage-worthy again, the Rock and Roll Hall of Fame singer wanted to send his savior a gift — something sentimental — so she sent Slash guitar shopping on his behalf.
"He had Slash go pick me a guitar," Grohl revealed to Classic Rock magazine. "And he picked me an early-'60s Gibson ES 335 Dot, which to this day is the nicest f---ing guitar I have every played in my life. It was an incredibly kind and classy gesture, and I was very appreciative."
Gibson ES-335 Dots sell for upwards of $3,000 when they're brand new, but vintage ones in good condition command much more. ES-335 Dots were first introduced in 1958, and examples from the model's first few years in existence are among the most collectible guitars on the vintage market commanding $50,000 - $100,000 or more.
Grohl's own signature model with Gibson is based on the 335 series, so having a guitar aficionado like Slash pick out the instrument was a savvy move by Rose.
The Foo Fighters forthcoming 10th studio album Medicine At Midnight is due out February 5.
Slash recently told Cleveland.com that he's hopeful about releasing new music with both his solo band and Guns N' Roses later this year.
This article was first published on iheart.com and is republished here with permission