Auction begins for guitars owned by Jimi Hendrix & Eddie Van Halen
Publish Date

Wednesday, 2 December 2020, 10:18AM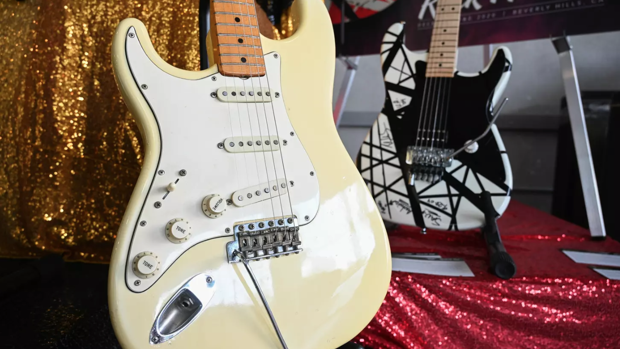 Items owned by some of the most consequential musicians of the 20th century are on the auction block this week.
Prospective buyers can peruse a selection of historic music memorabilia, including guitars owned by rock icons like Jimi Hendrix and Eddie Van Halen, starting today, Tuesday, December 1, via Julien's 'Icons & Idols: Rock 'N' Roll' auction.
Among the headlining items is a Van Halen-designed white and back Charvel Guitar, conservatively expected to sell for between $60,000 - $80,000. Another red, white and black Van Halen-owned and autographed Kramer guitar is expected to sell for $40,000 - $60,000 or more.
A white Fender Stratocaster owned by Hendrix will likely fetch between $300,000 - $500,000. A 1920's acoustic guitar that was once owned by Hendrix is expected to sell for between $200,000 - $300,000.
Julien's is the first major auction house to offer up major Van Halen memorabilia since Eddie died of cancer at age 65 on October 6. Julien's Auctions Executive Director Martin Nolan told Fox Business on Monday that there could well be a frenzy for the Van Halen instruments that drives their sale prices closer to that of the Hendrix guitars.
"We think [the Van Halen guitars] can go a lot higher, especially since we lost Eddie, now the next best this is to own something representing his amazing life and career," Nolan said.
He added that its now been 50 years since Hendrix's passing.
The auction is eight lots total and it also includes items connected to David Bowie, Kurt Cobain, Elvis Presley, Michael Jackson, Madonna, Little Richard, Bob Marley and many other music legends.
You can view all the 'Icons & Idols' auction items HERE.
This article was first published on iheart.com and is republished here with permission