Angus Young explains how close Bon Scott was to writing for 'Back In Black'
Publish Date

Wednesday, 24 February 2021, 11:32AM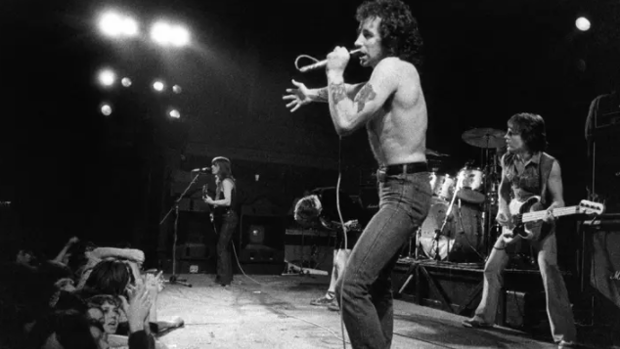 AC/DC's iconic Back in Black album has often been attributed to the death of the band's longtime frontman Bon Scott, but for many years rumors have suggested that Scott played a larger role in the making of the album than inspiration.
The reality of Scott's passing is actually much sadder. In a recent conversation with Paste magazine, Angus Young explained that Scott died just days before the band was due to begin writing.
When the Highway to Hell tour was completed, Angus and Malcolm Young rented a rehearsal room in London to begin working on the next album. The brothers would take turns playing guitar or drums.
Scott dropped in one day to play drums while the duo was working on "Hells Bells," but he never returned with any lyrics.
"Bon got behind the kit so we could try and work out this intro, how we wanted to do it," Young said. "So, we sorted that out how we wanted, and the other one was 'Have a Drink on Me,' a riff Malcolm was playing around with. So, we worked out the intro on that and how the song was gonna go. ....That was it, really. If you were looking up what Bon had done, it was really just to help us with those demos on the drums."
The brothers made plans to get together again with Scott the following week.
"He'd been working on some lyrics and said, 'We'll hook up next week, and maybe the three of us can just start going through stuff,'" Young continues. "But unfortunately, he passed before that."
Scott died in London on February 19, 1980, after a night of heavy drinking.
AC/DC hired Brian Johnson as its new vocalist about six weeks later and headed to the Bahamas to record the new album. Back in Black was dedicated to Scott and released in July of that year. It became one of the biggest-selling albums of all time, having been certified 25-times platinum by RIAA.
AC/DC's acclaimed latest album, PWR/UP, its 17th overall, is a tribute to late-rhythm guitarist Malcolm, who passed away of dementia in the fall of 2017.
This article was first published on iheart.com and is republished here with permission