Alice Cooper says Jimi Hendrix was the first person to ever give him weed
Publish Date

Tuesday, 6 April 2021, 9:31AM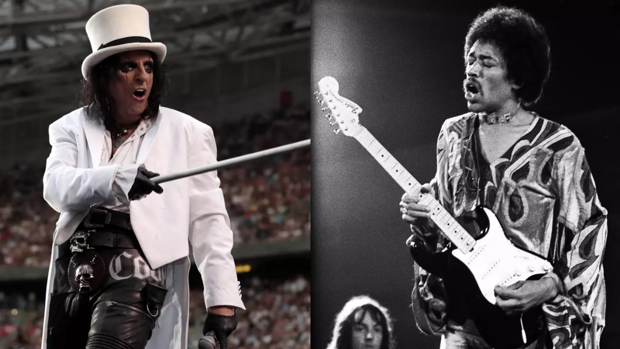 For Alice Cooper, marijuana was never going to give him a better story than his first toke, which was at a party in a hotel room with Jimi Hendrix.
On a recent episode of the SDR Show, the Godfather of Shock Rock looked back on one of his first-ever experiences with pot.
Cooper says he and his high school band mates went to see the Jimi Hendrix Experience in Arizona and somehow got invited to the after-party.
"...[W]e were just a little high school band, but they said, 'Hey, come on up to the hotel room.' And we were sitting on his bed, and Jimi [offered a joint] and I went, 'Okay.'"
Sometime after the sweet leaf began to work its magic, "[Hendrix] goes and puts a quarter in the bed — you know, the vibrating bed. There was like eight people sitting on the bed. And he goes, 'We're on a spaceship!' and I went, 'Okay' [laughs]."
Jimi probably had more than just pot in his system at the time, Cooper surmised.
As he began exploring drugs more deeply and drinking more alcohol along with them, Cooper began to have far more negative experiences. He recalled one night in Detroit when he smoked "crystal THC" and awoke in the wee hours of the morning unsure where the past several hours had gone, "...I really did believe that everybody was dead and that I was the only one that survived it."
Cooper got fully sober in the '80s and has never looked back, helping several other famous rockers get sober along the way.
This article was first published on iheart.com and is republished here with permission
Take your Radio, Podcasts and Music with you