Alex Lifeson, Kirk Hammett collaborated on upcoming Tom Morello song
Publish Date

Friday, 2 July 2021, 10:33AM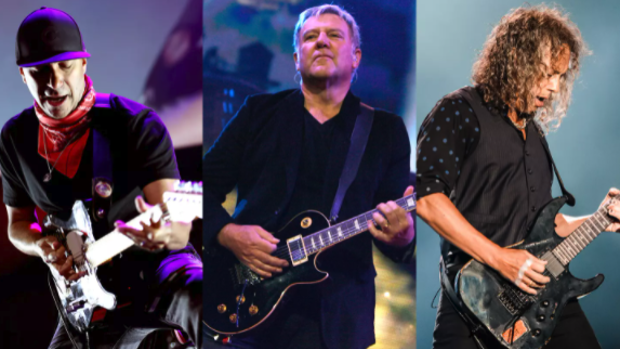 Tom Morello has roped Rush's Alex Lifeson and Metallica's Kirk Hammett in on a forthcoming project.
Morello's last solo album, Atlas Underground, featured collaborations on each of its 12 tracks. Lifeson revealed to Ultimate Classic Rock that the Rage Against the Machine guitarist is taking a similar tact on his forthcoming record, but with more guitarists.
"I don't really know what the future holds for it, but I really loved doing it," Lifeson said of the track.
Morello, a lifelong Rush fan who was one of the leading advocates behind the band's 2013 Rock and Roll Hall of Fame induction, sent a few riffs to his fellow guitar heroes, encouraging them to take the song in whatever direction they felt was right.
"He said, 'Put whatever you want on it — the more the merrier,'" Lifeson continued. "He was going to give it to Kirk Hammett, and Kirk was going to do the same thing."
While Lifeson has been busy with a variety of studio projects since Rush took its final bows, he says that he tried to stretch himself with his contributions to the track.
"Being the contrarian, I did all of [these other styles,] not just heavy rock stuff," he said. "We were all talking to each other while we were doing it, and we just had such a riot. I sent my stuff in and it went to Kirk then, and he sent his stuff in."
Morello, of course, has one of the more distinctive touches in rock 'n' roll and Lifeson said it was a joy to collaborate with him.
"It's really some fun music. It's so Tom Morello, his parts. I just smiled the whole way through listening to it. I thought it was really, really cool the way it turned out."
While the song was pitched as a one-off, Lifeson added that he hopes Morello has "something else to send along."
Lifeson recently confirmed another project called Envy of None, featuring himself alongside Coney Hatch bassist Andy Curran and singer Maiah Wynne. The trio's 10-song debut album is expected out later this year.
Take your Radio, Podcasts and Music with you