Aerosmith considered asking Sammy Hagar to replace Steven Tyler in 2011
Publish Date

Tuesday, 17 August 2021, 9:20AM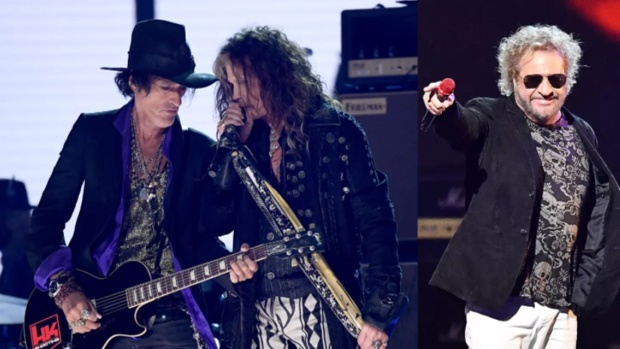 Steven Tyler's tenure as a judge on American Idol did not initially sit well with his bandmates in Aerosmith.
Guitarist Joe Perry tells Ultimate Classic Rock that the Idol gig was one of many signs at the time that Tyler was distancing himself from Aerosmith. The singer's interest in continuing with the band at all was very much in doubt.
"I thought Steve wants maybe to take four years off, do what he wants to do," Perry recalled thinking.
With those questions swirling, Perry, bassist Tom Hamilton, drummer Joey Kramer and guitarist Brad Whitford bandied about whom they could ask to replace the Demon of Screamin' should the time come. As Perry recalls, the band considered Lenny Kravitz, Chris Cornell, Paul Rodgers and Billy Idol.
They actually discussed the idea with Sammy Hagar, who Perry believes would have accepted the offer, before Tyler expressed his intent to return.
"It was really another one of those times, you don't keep a band together without a lot of bumps," Perry continued. "But anyway, over the years, everybody has to bust out and do what they want. And I remember Steven doing that TV show, I thought that was great. I just knew he had to do something like that, and doing that solo record that he did [in 2016]. So the band wasn't that tight, there was talk and there were so many people involved — lawyers, different managers."
He added that Hagar was a frontrunner for two reasons: he's "easy to get along with" and he "definitely had the pipes."
Fortunately, Tyler returned to Aerosmith sooner than the band expected and together the five members "slowly glued back together" as a unit.
Tyler has revealed that he had a love/hate relationship with the American Idol show; he told Hollywood Reporter in 2012 that the show was something positive for him to focus on while the band's drama "blew by," and he got paid a ton of money. But he also hated the tedium of the show's filming schedule with was unlike anything he had done before as a rockstar.