AC/DC's new album hits No. 1 in more than a dozen countries
Publish Date

Wednesday, 25 November 2020, 9:35AM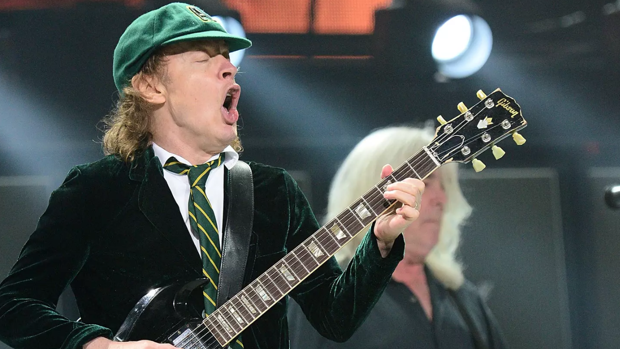 AC/DC's first studio album in six years is one of the biggest-selling records of the fall, having hit No. 1 in 18 countries, including the U.S., the U.K. and the band's home nation of Australia.
'PWR/UP' is the iconic hard rock band's 17th studio album overall. It topped the Billboard 200 here in the states, selling over 117,000 equivalent copies in the first week.
The album is now the band's sixth No. 1 album in Australia, and it's made AC/DC the first Australian artist in history to have had No. 1 albums in five decades. 'PWR/UP' joins 1980's 'Back in Black', 1992's 'AC/DC Live', 1995's 'Ballbreaker', 2008's 'Black Ice' and 2014's 'Rock or Bust' to have hit No. 1 Down Under.
'PWR/UP' also debuted at No. 1 in the U.K. with first-week sales of 62,000, 52,955 of which were physical formats.
The highly-anticipated record features a reunited version of the band, which the members have called the closest thing possible to AC/DC's classic lineup since the 2017 death of co-founder and rhythm guitarist Malcolm Young.
Malcolm is credited as a co-writer on every track on 'PWR/UP'. His brother, lead guitarist Angus Young, explained that many of the song ideas and lyrics used for the new album were taken from long-lost writing sessions between the brothers.
The album was mostly recorded in Vancouver, Canada, over a six-week period in late-summer of 2018 with producer Brendan O'Brien. Angus has said that the band planned to launch 'PWR/UP' earlier this year, but reconsidered after the pandemic made it clear AC/DC would not be able to go through with its live performance schedule as initially planned.
Longtime bassist Cliff Williams, who retired at the conclusion of the band's 2016 'Rock or Bust' tour, confirmed last month that he had signed on to do a handful of tour dates with the band.
Frontman Brian Johnson, who left the 'Rock or Bust' tour early due to hearing issues, explained that he's able to sing again thanks to a revolutionary new hearing device he was approached about testing after leaving the band.
This article was first published on iheart.com and is republished here with permission