AC/DC engineer offers explanation for lengthy delay in 'PWR/UP' release
Publish Date

Wednesday, 9 December 2020, 9:55AM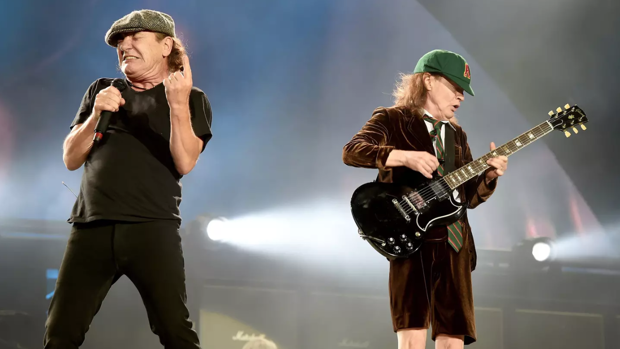 AC/DC reunited its Rock or Bust album lineup at a recording studio in Vancouver, Canada, in the summer of 2018. The band finally confirmed its reunion in late-September and released the acclaimed new album PWR/UP, last month.
The gap between the photos of Angus Young and company together in Vancouver and the official announcement of the album was so long that it some fans to doubt that a new album existed — or that it would ever come out if it did exist.
AC/DC engineer Mike Fraser tells Brave Words in a recent interview that PWR/UP was likely completed in October of 2018.
While the band had successfully pulled off the album, it wasn't sure whether singer Brian Johnson would be able to tour in support of it or if the legal problems that prevented drummer Phil Rudd from taking part on the 'Rock or Bust' tour were truly over. Bassist Cliff Williams had previously stated that 'Rock or Bust' was his final go-around.
"Brian … was fresh back in the band after his hearing stuff, and they didn't know how that was going to work," Fraser said. "Cliff had said he wanted to retire; [Phil] had his problems. So putting that all together, it must have been a logistic nightmare. And I think they wanted to keep it under wraps, and if it worked out it would give the fans a great surprise present. … I think they were kind of disappointed that it got leaked. But they're a huge monster band, so how could it not?"
Fraser said the delay in forward motion by the band caused him to doubt whether the album would arrive this year, especially in light of the pandemic. News that the band was going ahead with the release was like a "glimmer of hope" in a dark year, Fraser said.
Angus himself told Q104.3 New York's Jim Kerr this fall that the band decided to release the album this fall, despite touring being off the table, in hopes that it would give fans some hope during a rough year.
Johnson later added that the band discussed getting back together shortly after Malcolm Young's death in 2017. He said it was euphoric getting back in a room with his old band the following summer.
"And there we were all of a sudden in 2018, we found ourselves in Vancouver in the studio — the boys!" Jonnson recalled. "And the electricity in that room, I can only tell you — damn! It was something I never experienced before."
This article was first published on iheart.com and is republished here with permission