AC/DC confirms latest lineup with new photo and asks if fans are "Ready"
Publish Date

Thursday, 1 October 2020, 8:24AM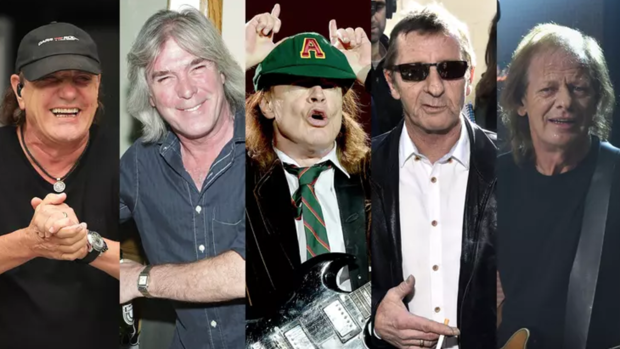 After more than two years of speculation, AC/DC has finally confirmed its latest lineup, featuring the returns of frontman Brian Johnson, bassist Cliff Williams and drummer Phil Rudd, alongside rhythm guitarist Stevie Young and co-founding lead guitarist Angus Young.
Rumors about the newly-reestablished AC/DC lineup and forthcoming AC/DC album have circulated for more than two years.
The band finally put some of the speculation to rest — and vindicated a number of purported AC/DC insiders — by sharing a new photo of the band Wednesday morning via a newsletter email and posts on the AC/DC social media accounts.
The new photo features, Williams, Rudd, Angus, Johnson and Stevie inside a 'PWR/UP' graphic. A black text box to the left of the five-piece even names each member. Photos leaked last week of the five musicians on what appeared to be a music video set.
This same lineup of AC/DC was spotted at a recording studio in Vancouver two years ago, but the band stayed mum regarding what it was working on.
It would appear 'PWR/UP' is the name of the band's forthcoming album, but the Aussie rock icons have yet to confirm that news.
The new album is said to have been built around unused guitar tracks from late-AC/DC co-founder Malcolm Young — Angus's older brother and Stevie's uncle — who retired from the band in 2014 and died in 2017 due to dementia.
Returns by Johnson, Williams and Rudd tie the band back to its most significant period from the late-'70s to Malcolm's departure last decade.
AC/DC's last tour, 2016's 'Rock or Bust,' was marred by Rudd's exclusion due to legal problems, Johnson's departure due to health issues and controversy over Johnson's replacement for the tour, Axl Rose.
'Rock or Bust' ended with Williams' retirement. While Rudd first joined the band in 1975, Williams' had the longest continuous tenure in the band (1977 - 2016) outside of any member other than Angus.
Whether some new music by AC/DC will arrive this week remains uncertain, but the band seems to be ramping up for a big announcement in the next few days.
This article was first published on iheart.com and is republished here with permission