50 things you might not know about 'Use Your Illusion I & II'
Publish Date

Saturday, 18 September 2021, 11:00AM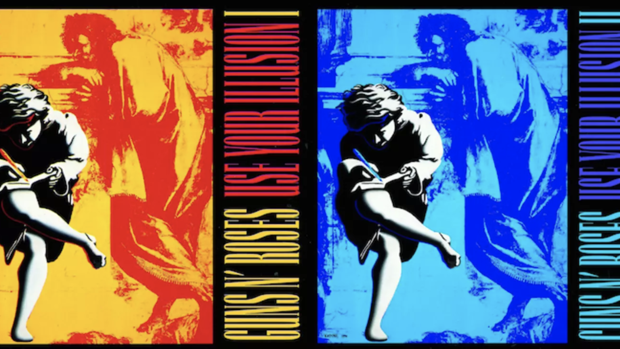 On September 17th, 1991, Guns N' Roses released their third and fourth albums, Use Your Illusion I and II. To celebrate their 30th anniversaries, here are 50 things you might not know about the records:
1. The covers of Use Your Illusion I and II feature the same detail from Raphael's painting The School of Athens. They were done by Estonian-American artist Mark Kostabi, who used a yellow and red color scheme for Use Your Illusion I and a purple and blue one for II.
2. The albums took the name of the paintings used for the cover art, which the artist's brother, Paul Kostabi, titled Use Your Illusion.
3. Somewhat hidden in the liner notes is the phrase "F*** You St. Louis," a reference to the band's performance there in July of 1991. Axl Rose cut their set short and caused a riot, an act that the city charged him for.
4. Slash is thanked in the liner notes for "the killer guitar melodies."
5. The albums came out at midnight on September 17th, 1991. The band sold 500,000 copies of them in just two hours, even though stores like K-Mart and Walmart refused to sell the records because they contained profanity.
6. After mixing 21 tracks with engineer/producer Bob Clearmountain, the band wasn't happy with how things sounded so they scrapped them all and started again with Sex Pistols engineer Bill Price.
7. The albums marked the first time other members of the band took on lead vocal duties. Guitarist Izzy Stradlin sang "Dust N' Bones," "You Ain't the First," "Double Talkin' Jive" and "14 Years," while bassist Duff McKagan voiced "So Fine."
8. The song "Right Next Door to Hell" came from Axl's beef with his neighbor, Gabriella Kantor. She had the singer arrested, accusing him of hitting her with a wine bottle. He denied the charge and called her a crazed fan. The condo was later given away in MTV's Evict Axl contest.
9. The band's version of Wings' "Live and Let Die" was nominated for the 1993 Grammy for Best Hard Rock Performance.
10. "Don't Cry" is about a girl named Monique Lewis, whose face is tattooed on Axl's right bicep. She was once his girlfriend and was also once romantically linked to Izzy.
11. Two versions of "Don't Cry" appear on the albums. They both have the same instrumentation, but the lyrics are totally different and the melody is also altered. A third version of the track was also recorded during Appetite for Destruction sessions. It came out as part of the "Don't Cry" single.
12. "Bad Obsession" is about overcoming drug addiction.
13. Hanoi Rocks singer Michael Monroe, who heavily influenced GN'R, played harmonica and saxophone on "Bad Obsession."
14. "Back Off Bitch" is in part about Gina Siler, Axl's girlfriend who moved to LA with him in 1982, but in 1983 kicked him out over his anger issues. The track was actually penned before Appetite came out.
15. The song "Double Talkin' Jive" features the line "found a head and an arm in a garbage can." It refers to police actually discovering those body parts in a Dumpster near the band's studio.
16. At eight minutes and 57 seconds, "November Rain" is the longest song ever to make it to the top ten of the Billboard Hot 100, where it peaked at number three.
17. Axl's former Hollywood Rose bandmate, Tracii Guns, said Axl had been working on "November Rain" since at least 1983, because he remembered hearing him play it back then. Axl told him, "Someday this song is gonna be really cool," but added that it wasn't yet finished.
18. The band thought Axl's voice on "The Garden" sounded so much like Alice Cooper's that they invited the shock rocker to help out on the song. He accepted and appears on the track.
19. The band wrote "Garden of Eden" while they were rehearsing in Chicago.
20. Axl wrote the acoustic guitar riff at the beginning of "Dead Horse." The song also features the sound of a nutcracker.
21. Slash and Axl wrote "Coma" about their drug overdoses. Axl once said the end segment of the track is "one of the best things that [he's] ever written."
22. Clocking in at 10 minutes and 14 seconds, "Coma" is Guns N' Roses' longest song.
23. "Civil War" is the last GN'R song to feature drummer Steven Adler, who was kicked out of the band due to his drug addictions before they made the albums.
24. "Civil War" is a protest song on war and includes the line, "What's so civil about war, anyway?"
25. Some of the lyrics of "Civil War" reflect a peace march that Duff went to with his mom when he was four years old.
26. "Civil War" first appeared on the 1990 compilation Nobody's Child: Romanian Angel Appeal.
27. "14 Years" is about a guy who has had a long, tough relationship with a girl and expresses how he feels in the song. Izzy wrote it at a very young age, before he ever could have had that kind of relationship, so it's not about him.
28. There are rumors that "14 Years" is about Izzy's friendship with Axl, since they'd reportedly known each other for 14 years when the song was written, but this concept doesn't fit the lyrics and it's never been confirmed by the band.
29. GN'R's cover of Bob Dylan's "Knockin' on Heaven's Door" actually came out a year earlier on the Days of Thunder soundtrack.
30. "Get In The Ring" was written about critics who gave the band bad reviews because of how they act on stage. GN'R actually name-dropped four critics in the song. One of those critics accepted Axl's offer to "get in the ring" and challenged Rose to a boxing match, but it never happened.
31. "Get In The Ring" was originally called "Why Do You Look at Me When You Hate Me," which instead became the song's first line.
32. "Get In The Ring" was also almost titled "Get In The Ring Motherf***er."
33. "Get In The Ring" is renowned for how much swearing is in the song.
34. The version of "Get In The Ring" on the album sounds live but it's not. The band recorded it in the studio and added crowd noises to it. The crowd noises came from a June 10, 1991 gig in Saratoga Springs, New York.
35. "Pretty Tied Up" begins with Izzy playing a coral sitar.
36. Slash said that Izzy was so high on heroin when they wrote "Pretty Tied Up" that he made a sitar out of a cymbal, a broomstick and strings.
37. Izzy was inspired to write "Pretty Tied Up" after seeing a dominatrix. He and a buddy went to meet her and at her house, she had a fat man in women's underwear and high heels, tied up with duct tape against a wall with an onion in his mouth.
38. "So Fine" was dedicated to punk rocker Johnny Thunders, who died of a drug overdose before the albums were recorded.
39. "Estranged" is GN'R's second longest song.
40. Axl said he penned "Estranged" during a more "bummed out" period of his life after his marriage to Erin Everly was annulled.
41. Slash said that "Breakdown" was one of the harder songs to record since the banjo, piano and drum parts were difficult to synchronize and new drummer Matt Sorum got frustrated trying to get it just right.
42. "You Could Be Mine" is about Izzy's failed relationship with his ex-girlfriend, Angela Nicoletti.
43. "You Could Be Mine" was featured in the 1991 film Terminator 2: Judgment Day, but it didn't make it onto the soundtrack.
44. The "You Could Be Mine" lyric "With your bitch slap rappin' and your cocaine tongue you get nothin' done" appears on the inner sleeve of Appetite for Destruction.
45. "Don't Cry," "Estranged" and "November Rain" form a narrative inspired by a short story called "Without You," written by Axl's friend and GN'R road manager, Del James.
46. Axl said that "My World" was written in three hours.
47. The band was reportedly on mushrooms when they recorded "My World." Axl said he didn't even know since a friend of him slipped the drugs into his tea.
48. Blind Melon singer Shannon Hoon contributed backing vocals to "Live and Let Die," "November Rain," "The Garden," "You Ain't the First" and "Don't Cry."
49. Use Your Illusion II debuted at number one on the album chart, selling 770,000 copies in its first week. Use Your Illusion I took the two spot, moving 685,000 units in a week.
50. Both Use Your Illusion albums have been certified seven times platinum in America and together have worldwide sales in excess of 39,000,000 copies.
This article was first published on iheart.com and is republished here with permission