15 facts about Temple Of The Dog's self-titled album
Publish Date

Friday, 16 April 2021, 11:42AM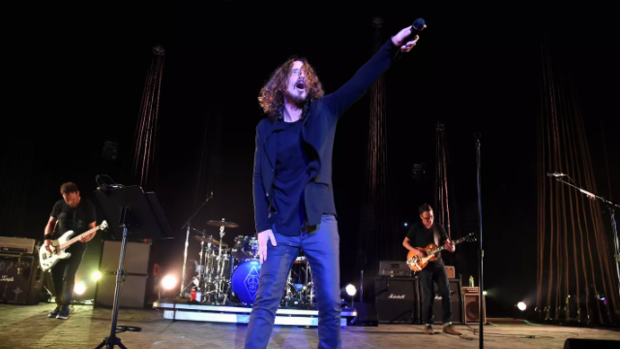 April 16th marks the 30th anniversary of Temple of the Dog's self-titled album. The record was the only release from the supergroup, which included Soundgarden singer Chris Cornell and drummer Matt Cameron, former Mother Love Bone members Stone Gossard and Jeff Ament, and then-newcomers Mike McCready and Eddie Vedder. Here are 15 things you might not know about theTemple of the Dog album:
1. The album was recorded in Seattle in 15 days during November and December in 1990.
2. The record is a tribute toAndrew Wood, the Mother Love Bone and Malfunkshun lead singer who died in 1990 from a drug overdose.
3. The name Temple of the Dog comes from the first few words of Mother Love Bone's song "Man of Golden Words": "I want to show you something, like joy inside my heart, seems I been living in the temple of the dog."
4. Chris Cornell, who was Wood's roommate, penned the songs "Reach Down" and "Say Hello 2 Heaven" in response to Andrew's death.
5. Other songs on the album were either written by Chris or were existing Mother Love Bone songs reworked by Chris, Stone Gossard and Jeff Ament.
6. Stone called the recording process a "non-pressure filled" situation since there were no expectations from a record company. He later called the album the "easiest and most beautiful record that we've ever been involved with."
7. "Say Hello 2 Heaven" was originally just going to be a one-off single, but after writing it and hearing how this new group sounded, Chris decided to create even more music.
8. "Say Hello 2 Heaven" features Chris Cornell's highest-recorded note. It comes in the song's final chorus.
9. While recording "Hunger Strike," Chris had some trouble with the vocals. Eddie Vedder, who was waiting for a rehearsal with Pearl Jam precursor Mookie Blaylock, took the mic and sang the low parts. Chris knew he wanted him in the band at that point.
10. The same verse is repeated twice in "Hunger Strike" since Chris felt he had said everything he could on the subject with the words he already used.
11. Cornell wrote "Call Me A Dog" for his then wife,Susan Silver, addressing the problems they had before they wed. Silver, who managed Soundgarden and Alice in Chains, divorced Cornell in 2004.
12. Along with singing on the album, Chris also plays harmonica on "Times of Trouble" and banjo on "Wooden Jesus."
13. Songs from the album have appeared in three movies: 1992'sWayne's World, 1993'sBenny & Joon and 2011'sWe Bought a Zoo.
14. While critically acclaimed, the album only sold 70,000 copies at first and didn't even chart. However, after Temple of the Dog, PearlJam formed and hit it big. A&M Records promoted the album since it included members of the band and Soundgarden together. The album then became one of the 100 top-selling records of 1992.
15. Temple of the Dog was certified platinum for sales over one-million copies in 1992.
This article was first published on iheart.com and is republished here with permission