WATCH: Two MMA Fighters Kiss During Face Off...
Publish Date

Wednesday, 22 March 2023, 2:00PM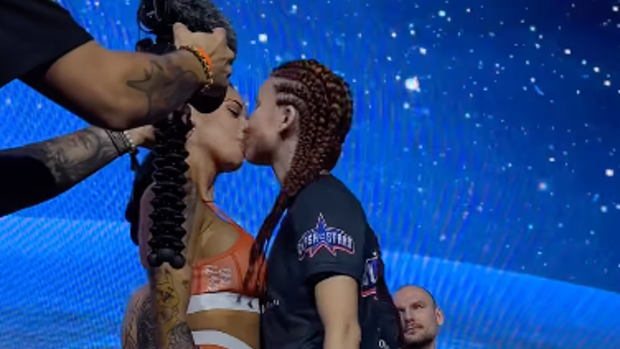 Two MMA fighters left fans stunned after taking to the stage for their pre-fight face-off and sharing a kiss.
There was a bit of an unconventional lead into the Clash of the Stars event last Saturday (March 11).
While face-offs are traditionally tense affairs serving as an opportunity for one last bit of mind games before taking to the Octagon - this one went a little different.
Karina Pedro and Denisa Ryndova took to the stage alongside their respective fighting partners Inked Dory and Kristal Shine ahead of their four-woman bout at Prague's O2 Arena.
And perhaps apropos for the untraditional nature of the bout, Pedro and Ryndova put their heads together and seemingly out of nowhere, Denisa leant in for a kiss.
Clearly, the feeling was mutual, as Karina flashes a smile before grabbing her opponent's face and planting one on her cheek.
Despite the lighthearted exchange, there was only ever going to be one winning team. In the end, it was Karina and Inked Dory who won the battle.
Nonetheless, everyone involved had a good time, with Denisa saying the kiss was a particularly memorable moment.
Sharing a clip on her Instagram page, she wrote: "Somehow I didn't realise that the whole gala @clashofthestars is already over.
"I'll at least throw here my favourite moment of this whole crazy journey."
OnlyFans star, Karina, shared the footage on social media as well with a message of her own.
She wrote: "This is pure fire... Staredown with @_dryndova_.
"I had to throw it here too. Harmonious energy flowed between us, and still we struggled in the cage like dragons."
Speaking about her win, she said earlier this week: "I have very strong emotions since yesterday.
"Winning is a great satisfaction for me. We gave everything into the preparations and the match itself.
"And a person who has never faced their opponent in the ring can hardly imagine how difficult it is.
"A very powerful moment! We left our hearts in there. Thank you."
This article was first published on sportbible.com
Take your Radio, Podcasts and Music with you