Flight attendants are forced to serve KFC after catering malfunction
Publish Date

Friday, 28 July 2023, 12:48PM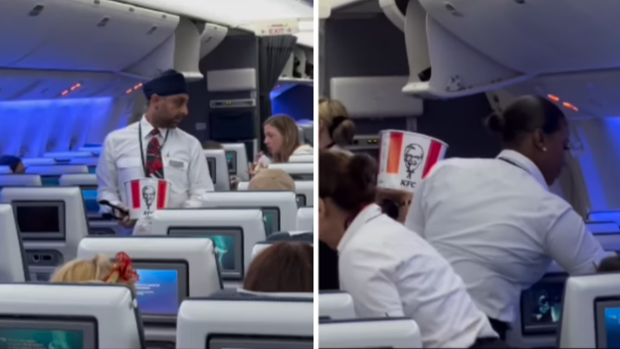 Passengers aboard a British Airways flight were left scratching their heads and licking their fingers after a catering malfunction led to the crew serving fried chicken.
Passengers aboard BA252 - a 12-hour flight from the Turks and Caicos to London Heathrow, via the Bahamas - claim they were served KFC instead of the standard catering service.
Food which was loaded aboard the flight from the Caribbean to the UK was spoiled and could not be served. The meals were disposed of during a layover in Nassau and alternative catering was sourced.
The problem, reportedly a refrigeration issue, affected all cabin classes.

That alternative catering was sourced during the short layover at the Bahamas airport, and happened to be buckets of KFC.

"With limited options available at the airport, our teams sprung into action and made sure our customers on board our flight had something to eat," a BA spokesperson told the Herald.
"We apologise to customers that their full meal service was not available and that we had to wing it on this occasion."
Passengers were also given catering vouchers on arrival.

One disgruntled passenger, Andrew Bailey, shared a photo of his daughter holding chicken drumsticks via Twitter.

"BA had to serve KFC at Nassau giving some lucky passengers one piece of chicken. The container with the plane catering wasn't chilled, so [it was] all thrown away!"
According to the passenger, refrigeration units failed on the plane, leading to all the pre-loaded meals being spoiled.
Another passenger said he and his partner were handed "ONE chicken leg" each.
The passenger uploaded a video of the slap-up catering service to the Lorockmor Working Dogs Instagram account, calling it an "absolute disgrace".
"They then said they would be handing out vouchers as we left the plane which myself and my travel partner never received."
After the catering cluck-up, some travellers came to the defence of the airline, saying the error was not their fault and they had done their best.
"As someone who is a flight attendant with a different airline, I can understand the frustration that the crew must have gone through to try [to] come up with a solution. However, it was the fault of the catering company, not British Airways," tweeted one.
"BA didn't FORGET the food, there was a catering foul-up and the food hadn't been refrigerated. Again, stuff happens," responded another.
"Would you rather have been fed food that might have made you ill?"
Take your Radio, Podcasts and Music with you