We Raised Over $12,000 For The Radio Hauraki DAY IN LOO
Publish Date

Thursday, 8 June 2023, 8:28AM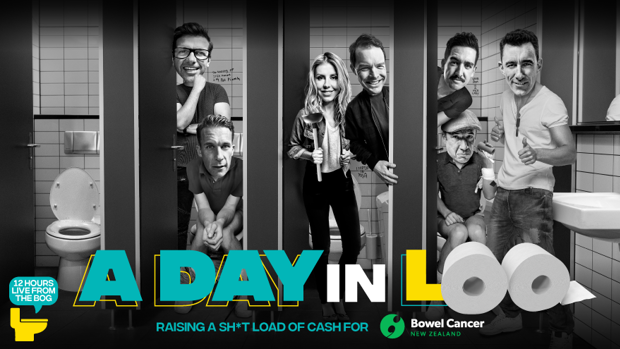 Thank you to all you Great New Zealander's for donating - we have raised over $11,000!
We put the 'pub' in public toilet and broadcasted 12 HOURS FROM THE BOG at The Empire Tavern all in aid of Bowel Cancer New Zealand!

The 12-hour LIVE broadcast was all in the name of raising a crap load of awareness & a sh*t load of cash for Bowel Cancer New Zealand.

Radio Hauraki - 'A Day in Loo'

Matt Heath & Jeremy Wells, Angelina Grey, Greg Prebble, Jason Hoyte, Mike Minogue & Keyzie along with friends of Radio Hauraki, comedians, sports & media personalities all took part in an amazing day.

We broadcasted from the Plumbing World toilets on a stage at The Empire. 

You can still donate by texting LOO to 3493 to make an instant $3 donation
or you can donate here: www.dayinloo.co.nz


You can also 'GIVE A SHIT' to help raise funds for Bowel Cancer NZ. Purchase one of the limited-edition ceramic 'POOS' and give a mate shit. Choose from six limited edition sh*tty colours – OG, Wasabi, Corn, Pink Eye, Splash Back and Eagle.
Visit giveashitforgood.com to give a shit!

Thanks for making a difference, you bloody great NZer.


Take your Radio, Podcasts and Music with you