Hauraki Presents THE WAR ON DRUGS
Publish Date

Monday, 22 May 2023, 8:00AM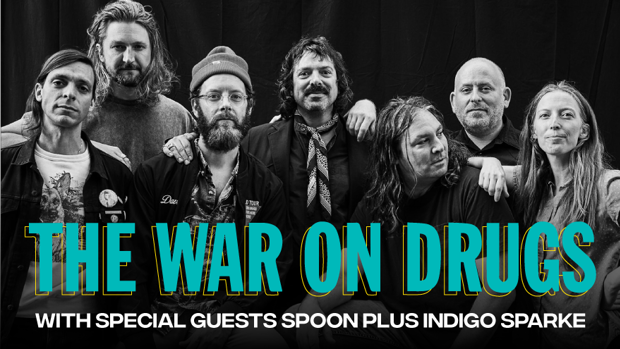 Hauraki Presents THE WAR ON DRUGS!
The War on Drugs announced their first Australian & New Zealand Tour since 2018 with special guests Spoon & Indigo Sparke.
Wellington, Anderson Park
Dec 1, 2023
Auckland, Spark Arena
Dec 2, 2023
The War on Drugs will also be performing as part of the 'On A Good Day' concert series in Wellington.
The band will tour in December 2023 in support of I Don't Live Here Anymore, praised by GQ as "the band's clearest, most vibrant, and upbeat."
Tickets are on sale now! Check out livenation.co.nz
Led by Adam Granduciel, the GRAMMY-Award winning band has steadily emerged as one of this century's great rock and roll synthesists, removing the gaps between the underground and the mainstream, between the obtuse and the anthemic, making records that wrestle a fractured past into a unified and engrossing present.
The New Yorker called them "the best American 'rock' band of this decade" in support of 2017's A Deeper Understanding while Stereogum hailed The War On Drugs as "one of the greatest American bands of their generation" following the release of I Don't Live Here Anymore. It landed on numerous 2021 best albums of the year lists and garnered a second GRAMMY Award nomination (Best Rock Song) and BRIT Award nomination.
Throughout their career, The War On Drugs has steadily evolved into one of rock's most compelling live acts. "It's hard to imagine a musical experience that's more enveloping and uplifting" (Consequence). Joining The War On Drugs for the tour will be one of rock's most acclaimed acts, Spoon.
Austin's most esteemed rock ambassadors have released ten albums to date, including a string of five straight top 10 records: Ga Ga Ga Ga Ga (2007), Transference (2010), They Want My Soul (2014), Hot Thoughts (2017), and Lucifer on the Sofa (2022). Hailed by TIME as "one of the greatest American rock bands", Spoon topped Metacritic's chart as the single most critically acclaimed band of the aughts. Last here in 2017, Spoon will tour both countries for the first time since the release of their Grammy nominated tenth album 'Lucifer On The Sofa'.
More than two decades into their career, Spoon returned with this loud, low-down, melodious rock record which The Guardian called 'Timeless Perfection' and Rolling Stone said, 'Might Be Spoon's Best Record Ever'. Opening for all shows will be Australian singer songwriter Indigo Sparke.
Take your Radio, Podcasts and Music with you