Aaron Tokona Tribute Buzz
Publish Date

Friday, 9 October 2020, 11:20AM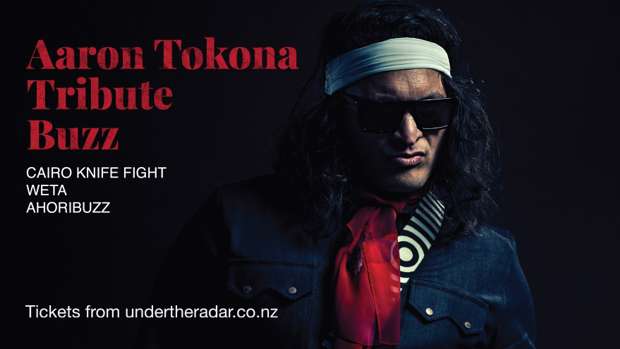 An all-star lineup of Aotearoa artists will perform together this year in tribute to Aaron Tokona, songwriter and guitar hero of Weta, AHoriBuzz, Cairo Knife Fight, Bongmaster and much more, who sadly passed away in June this year.

In celebration of Tokona's spirit and to help support his whanau, a small army of significant local music figures will be jamming Cairo Knife Fight, Weta and AHoribuzz tunes on three dates across the country.
The muso buzz features band members from L.A.B, Kora, The Black Seeds, Fly My Pretties, Ahoribuzz, Opshop, The Feelers, Pumpkinhead, Semi Lemon Kola, Skinny Hobos.
Auckland's show sold out and was a highly charged and emotional night, Aarons family were in attendance and were honored and overwhelmed with the Aroha and Mana for Aaron.

Aaron Tokona Tribute Buzz

Friday, October 23rd
Totara St., Tauranga

Saturday, November 21st
The Good Home, Ferrymead, Christchurch

Friday, December 18th
San Fran, Wellington

Get your tickets from undertheradar.co.nz